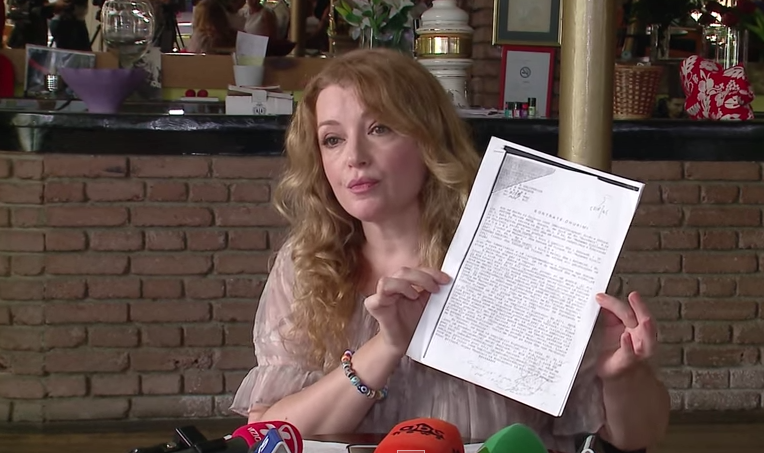 Tirana, 5 May 2016/ Independent Balkan News Agency
In Albania, the prominent singer, Rovena Dilo, has denounced through a public letter,  what is considered by her as a theft of a property of her family at the heart of the former Bllok area.
The property in question is "Rovena" bar, which is a bar surrounded with greenery and has been one of the preferred bars in the area of former Bllok in the recent years. This bar is managed by singer Rovena Dilo.
Through legal procedures that Dilo considers to be manipulated, Socialist MP, Tom Doshi and former democrat MP, Ndricim Babasi, have managed to secure a bailiff order which gives way to a possible seizure of the bar.
The plan of the two politicians, one belonging to the majority and the other to the opposition, is to build an apartment block.
In this letter addressed to the media, politicians and state leaders, Rovena Dilo denounces the suspected affairs which according to her, are taking place with her property.
"I have a simple question and I  am addressing it in my name and in the name of all Albanians who are persecuted every day by your almost magical power. Who are you?! You, who want to rob the property of my family! You who want to destroy our inheritance, blood, honor and our life! You who do not care about our businesses, for which we have sweated so much!"
Furthermore, Dilo addresses another question: "Why do you have permission to claim whatever you want and make it yours within 24 hours? Are you the owners of the country, who appoint any judge, in all instances of the court system?"
"Only you are able to manipulate the Court of Appeal in a record time. You can decide the date of the case, the judge, you do not notify the other party and you take the decision. The same as in dark times of dictatorship when people were taken in secrecy, executed, buried, were taken their property and nobody held responsibility for them", Dilo continues in her letter.
At the end, Dilo calls on the President of Republic, Speaker of Parliament and Prime Minister "not to hide, but to take their positioning on this case!" /balkaneu.com/