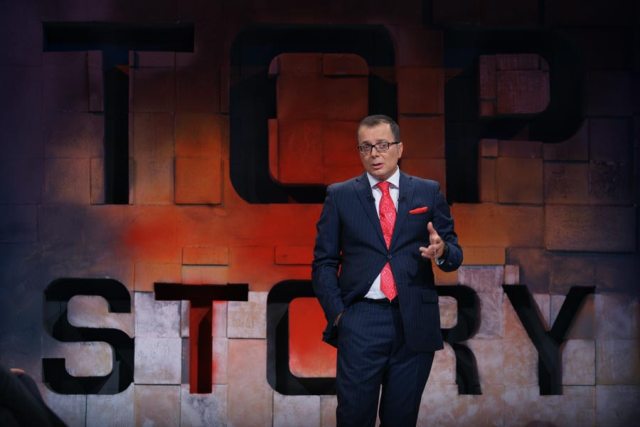 Tirana, April 23, 2015/Independent Balkan News Agency
Prominent Albanian journalist, Sokol Balla has faced in the recent hours with a so called scandal, where he appears in a hard core video, which has publicly damaged his image.
This has led to the national TV network, Top Channel to suspend the political program called "Top Story", which is conducted by the prominent journalist, Sokol Balla.
On air since October 2006, every Thursday Top Story offered interviews, debates and the daily developments.
Top Story has introduced in the Albanian media culture the combined British and American culture of in depth "situation room" shows with the Italian "Matrix"  type.
"Today, Top Story and Sokol Balla are considered as the symbiosis of opinion making in the country, whereas in terms of balance, shrewdness and perseverance to discover the truth, it enjoys maximum respect and audience in Albania and other Albanian speaking lands", is the evaluation given in the TCH official page.
The attack that started from Kosovo
It had been several months that Sokol Balla faced attacks from the Pristina based daily newspaper "Ekspres". This newspaper had often attacked the journalist, using criticism, irony and different accusations against him.
These days, in unclear circumstances, several videos were published on the internet, where journalist Sokol Balla appeared in a hotel room, completely naked, masturbating in front of a woman who was watching him through Skype on pc.
It's not known how these videos were made and who distributed them. The Albanian law on privacy forbids such acts, although the images went on the internet for several hours until YouTube and several other social networks erased them.
The daily newspaper from Kosovo did not publish the videos that it claimed to posses, but to published photos from the videos.
Since these videos immediately spread on different Albanian media, journalist Sokol Balla kept quiet and has not issued any declarations.
Several analysts defended Balla saying that his private life has no connection whatsoever with his profession, if he does his job according to the rules.
They also criticized the decision of the Board of Top Channel to suspend Sokol Balla's show. /ibna/