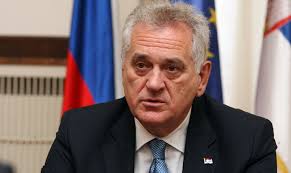 Review Hari Stefanatos
The SNS will be able to form local governments in the municipalities of Belgrade's Voždovac, Odžaci in northern and Kostolac in eastern Serbia without having to resort to coalitions with other parties, after their convincing wins in the early elections that were held there.
Meanwhile, the Democrats have experienced a heavy blow.
In Voždovac, according to incomplete results, the Progressives won the elections clearly, the Democrats got 11.65%, the SPS followed with 8.25, the Democratic Party of Serbia (DSS) received about 6.10, while Rasim Ljajić's Social Democratic Party of Serbia percentage of 5% also gave it seats in the municipal assembly. Meanwhile, the Liberal Democratic Party (LDP) had failed to reach the threshold with their 4.51% after 70% of the votes were counted. The turnout was 36%.
Top officials from the Progressive (SNS) and the Democrat (DS) parties addressed journalists early on Sunday evening, from their respective headquarters in Voždovac.
Nebojša Stefanović, head of the SNS Belgrade committee first said that the results showed that "the time was right for early (parliamentary) elections".
SNS leader Aleksandar Vučić followed saying that "I respect the calls of my party colleagues for early elections – but that they are not a priority", although discussions on the subject will be held within the SNS.
In Odžaci, the end of an eventful election day found the Progressives leading with 48.18%, followed by the DS with 18.19% and the SPS with 11.67%.
According to deputy leader of the DS and head of the provincial government in Vojvodina Bojan Pajtić, "voters were bribed" and the conditions during the elections were "extremely hard" calling for an international presence for all future local elections.
Vice President of the SNS Goran Knežević, on the other hand, questioned the legitimacy of the DS provincial government, in light of these results, calling for early elections in Vojvodina.
He stated "I question the legitimacy of the Vojvodina government after landslide victories (of the SNS in previously held elections) in Kovin, Srbobranu and Vršac and after the decision of the Constitutional Court to declare unconstitutional the statute of Vojvodina. The question is whether Bojan Pajtić can stay in power".
In Kostolac, preliminary results show SNS leading with 45.51%, the SPS receiving 22.18%, the DS 12% and the URS 9.54%.  The turnout was 58.51%.
(Source b92)