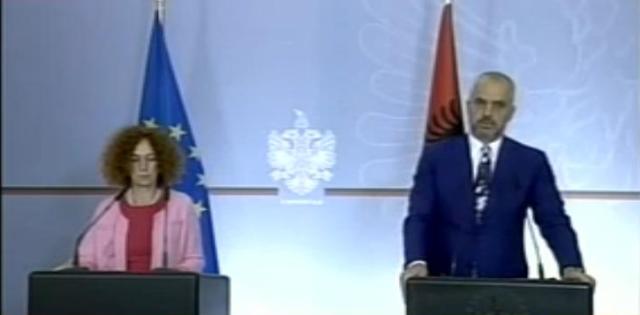 Tirana, October 8, 2014/ Independent Balkan News Agency
The head of the European Union delegation to Albania, Romana Vlahutin, has delivered today the progress report on Albania to the prime minister of the country, Edi Rama. During this meeting, Ms. Vlahutin said that the EU is worried on the cooperation with the opposition. In this framework, the head of the government declared that the majority still doesn't know what the demand of the opposition is.
"We're worried about all inclusiveness and cooperation with the opposition in order to have a public and open debate to address all issues in Albania", said the head of the EU delegation.
"We're waiting for the opposition to tell us what we can do. When we boycotted parliament, we wanted ballot boxes to be opened. We had a concrete demand, but on the other hand, we don't understand what the opposition is demanding today", declared Rama.
At the start of her speech, Vlahutin said that the progress report is part of the 2014 enlargement package, which brings more responsibilities for Albania.
"Reforms must be sped up. There must be a better application of the laws, in order for us to see the steps that Albania is making toward the EU", said Vlahutin.
The head of the government said that the progress report expresses the will of the government to prove with facts that modernizing reforms are taking place. Rama added that the report shows the work that has been done toward the launch of accession talks, through the five key recommendations, which are in line with the program and the will of the government to put an end to the corruption that controls the judicial system and public administration and to continue the war against organized crime. /ibna/