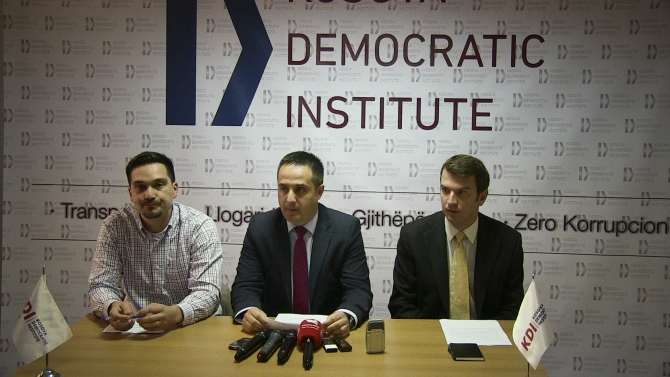 IBNA Special Report
Pristina, October 10, 2014/Independent Balkan News Agency
By Elton Tota
On Friday, Kosovo's Democratic Institute (KDI) presented the findings of the Progress Report of the European Commission on Kosovo.
The executive director of KDI, Driton Selmanaj declared during a news conference, that the report in question, in general, is a negative one for Kosovo.
"Most of this report is a negative one for Kosovo. As such, it must alarm the political class of Kosovo in order to put an end to this political crisis as soon as possible, in order for this criticism to turn into homework with the aim of improving the life of the citizens of Kosovo", said Selmanaj.
Selmanaj said that the report speaks positively about the holding of the elections, but one of the setbacks is the fact that the electoral reform has not been completed.
"The report points out that Kosovo has not been able to approve the electoral reform, although the work to complete it has started in 2011", said Selmanaj.
Meanwhile, as far as the work of the Parliament of Kosovo is concerned, the first complaint addressed, according to him, is the issue of the lack of a quorum and boycotts in parliament.
He said that another issue relates to the poor control that parliament has on public enterprises and independent agencies.
Meanwhile, Jetmir Bakia from this institute said that the government is required not to prevent the economic development of the communes.
"Three have been the things demanded by the European Commission in this report to the central government in relation to our communes. There must be support for local economic development, financial support for decentralization and more instructions for the European integration processes", said he.
According to him, the report identifies four weak points about local government: "Bearing in mind the insufficient transparency in decision making, weak planning of the budget due to insufficient capacities in the communes, the report stresses the need of the reformation of administration and reorganization of communal directorates and through this report, the European Commission stresses the need to simplify communal services.
Meanwhile, talking about fight against organized crime and corruption, Artan Canhasi said that according to the report, Kosovo still needs to work more in this aspect.
He said that corruption remains spread in the domain of public procurement.
"The first sentence of the Progress Report is that Kosovo has made limited progress and that it's in the initial phase of the fight against corruption and this is a very bad thing. Corruption remains an open issue in many domains, especially in public procurement, where there's a lot of work to do. As far as public procurement is concerned, the report says that capacities must be strengthened", said Canhasi. /ibna/