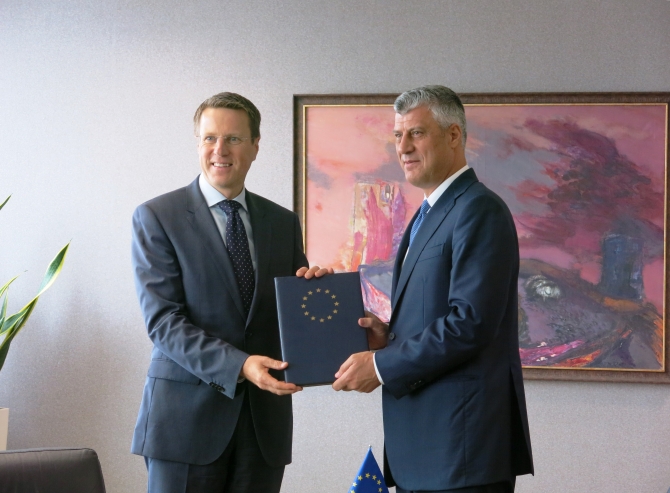 IBNA Special Report
Pristina, October 8, 2014/ Independent Balkan News Agency
By Elton Tota
European Union Special Representative to Kosovo, Samuel Zbogar, officially delivered today to the prime minister of the country, Hashim Thaci and president Atifete Jahjaga the progress report.
The European Commission report says that Kosovo has shown that it's capable of coordinating its European integration actions, namely in the domain of the Stabilization and Association Agreement.
According to the report, the last elections in Kosovo are considered to be free, democratic and according to EU standards.
Nevertheless, the report also contains negative comments for the authorities of Kosovo relating to "the failure in the timely constitution of the new parliament", considering it as a "step backward".
"The government must launch a wide variety of reforms, for the electoral reform and for the public administration. The citizens of Kosovo expect to have freer media and not face discrimination, regardless of their religion or ethnicity. In order to be successful, Kosovo needs a government driven not only by reforms, but a government which will back the talks with Serbia and the implementation of the agreements which have been reached, not only for the best interest of Kosovo, but for the best interest of Serbia and the region of West Balkan", reads the report.
The report also mentions the issue of the lifting of the visa regime in the Schengen area for the citizens of Kosovo, and although it praises the progress in the talks conducted in this aspect, authorities are required to show "results in the fight against organized crime and corruption and further develop the independence of the justice system".
President Jahjaga welcomed the progress report on Kosovo, by stressing that this report recognizes the progress made by Kosovo in fulfilling the European integration reforms.
At the same time, president Jahjaga said that Kosovo is committed for the challenges identified in the report, to be addresses by all the institutions of Kosovo.
"President Jahjaga stressed that the new institutions must urgently engage for the reforms and address the deficiencies identified in this report. She also welcomed the readiness expressed by the European Commission to help Kosovo in a new phase of relations with the European Union and to intensify dialogue with the National Committee for European Integration, which will be led by the president of Kosovo", reads the press release issued by the president's office.
Meanwhile, prime minister Hashim Thaci said that the report confirmed the progress achieved for the finalization of negotiations for the Stabilization and Association Agreement and the progress for the finalization of the process of the liberalization of visas.
"Today is a new day for the Republic of Kosovo. A new era, the era of European integration", declared Thaci.
On his part, the EU Special Representative to Kosovo, Samuel Zbogar, praised the engagement of prime minister Thaci and government of Kosovo for the work done in meeting the obligations and addressing the challenges that stem from the Progress Report and stressed the need for Kosovo's authorities to make more efforts in speeding up the process of European integration. /ibna/