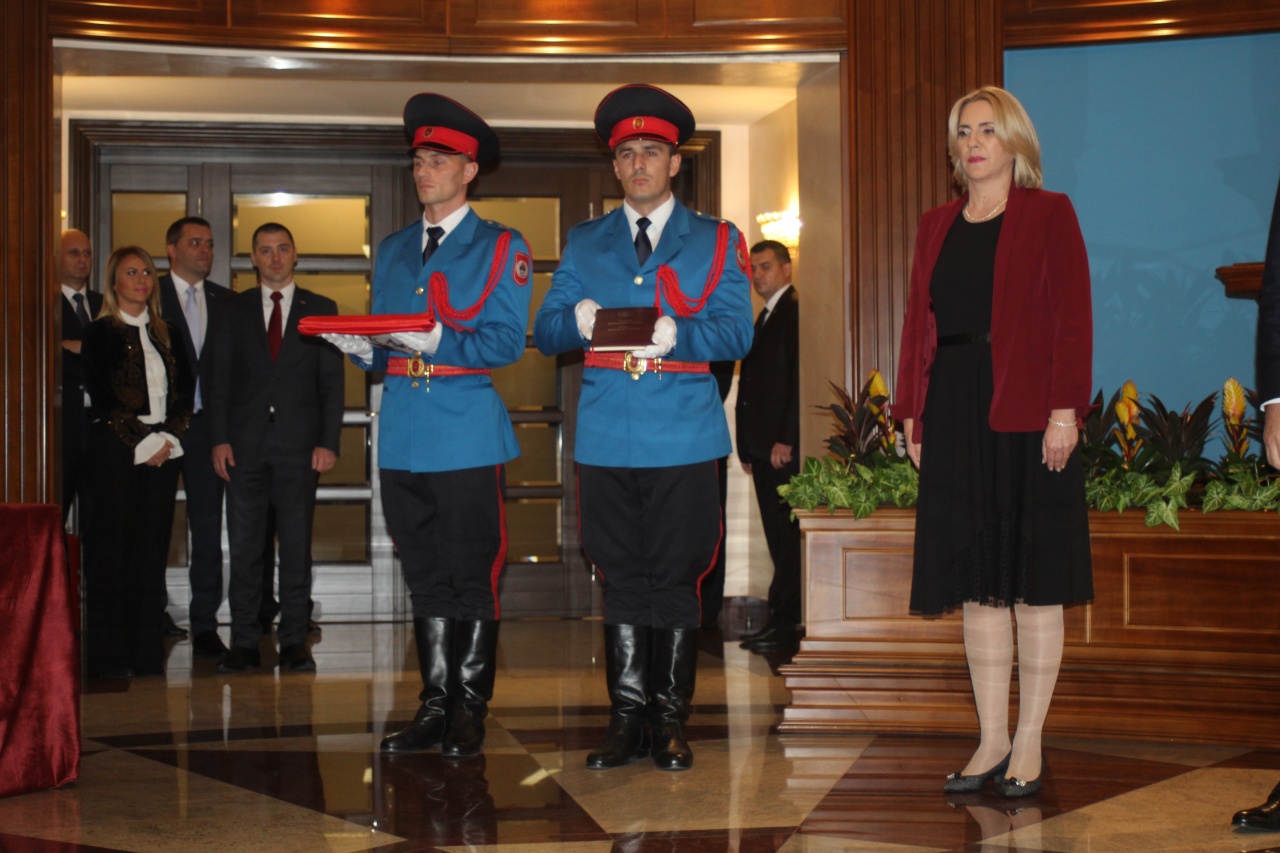 Od danas Republika Srpska (RS) ima novo inaugurisanu Narodnu skupštinu (NSRS), entitetskog predsjednika i srpskog člana Predsjedništva BiH. Na ovaj način, RS je skoro završila posao na uspostavljanju novih institucija u skladu sa rezultatima opštih izbora održanih u oktobru.
Prva sjednica NSRS bila je u najmanju ruku neuobičajena, jer su je mnogi događaji učinili stvarno zanimljivom. Prvo, po prvi put u istoriji poslanici iste stranke predložili su dva kandidata za predsjednika NSRS. U skladu sa sporazumom u koaliciji Saveza nezavisnih socijaldemokrata (SNSD), Demokratskog narodnog saveza (DNS) i Socijalističke partije (SP), pozicija predsjednika NSRS ide u DNS. Ali, poslednjih dana ova stranka je podeljena kako je Glavni odbor, na zahtjev lidera stranke, Marka Pavića.uklonio Nedeljka Čubrilovića, bivšeg predsjednika NSRS, sa dužnosti zamjenika predsjednika stranke. Čubrilović je protestovao i nije se složio s ovom odlukom što je dovelo do podjele članova na one koji su mu odani i one lojalne Paviću. Jedna grupa odlučila je da podrži Čubrilovića kao kandidata za predsjednika NSRS, a druga grupa odlučila je da podrži Duška Ivića, kandidata kojeg je predložio partijski lider Pavić.
Na prvi pogled izgleda da je spor lako rešiti i da će Ivić biti izabran na prvoj sjednici kao predsjednik NSRS. U ovom slučaju bilo je nemoguće jer je Čubrilović favorizovan od strane lidera SNSD-a i novoizabranog srpskog člana Predsjedništva BiH Milorada Dodika. Narodni poslanici njegove stranke glasali su za Čubrilovića i on je preuzeo dužnost ostavljajući spor u stranci dubljim nego prije sjednice. Sudbina partije je nesigurna, kao i podrška DNS-a koaliciji SNSD-DNS-SP. Još uvek nije sigurno da će SNSD i partneri imati veliku većinuako DNS napusti koaliciju.
Drugi neobičan događaj na ovoj sjednici bio je činjenica da se član Predsjedništva BiH, Milorad Dodik, zakleo pred Narodnom skupštinom. Ipak, niko ne zna šta to znači jer će u utorak, 21. novembra, na zvaničnoj ceremoniji inauguracije novo Predsedništvo položiti zvaničnu zakletvu. Ovaj čin nije zabranjen zakonom, ali to je prvi put da je to neko učinio. Dodik je svom govorurekao da je ispunio ciljeve očuvanja RS i da se njegova politika u narednom periodu neće mijenjati.
"To što nije u interesu Republike Srpske neće ni u interesu BiH. Neću dopustiti ostalim članovima Predsjedništva BiH da na bilo koji način zaustave RS," rekao je Dodik na inauguralnoj sjednici.
U jednom od najdužih inauguralnih govora u istoriji RS, Dodik je ispred poslanika obećao da će naporno raditi na zatvaranju Kancelarije visokog predstavnika, proterivanju stranih zvaničnika iz sudova u BiH i učiniti sve da ojača položaj RS u BiH i regionu. Takođe je rekao da će saradnja sa Srbijom bitijedan od najvažnijih prioriteta i da rijeka Drina neće biti granica za Srbe u BiH. Kao treći događaj koji se može nazvati "neuobičajenim", je to što je novoizabrani poslanik iz Trebinja, Nebojša Vukanović, koji je dva puta podigao ruku za raspravu, oba puta prozvao nekoliko drugih poslanika "lopovima" i "izdajnicima". Biće zanimljivo vidjeti kako će on djelovati u budućnosti kao opozicija vladajućoj koaliciji.
Jedan od događaja koji je obilježio ovu sjednicu bio je i pojavljivanje bošnjačke poslanice Begije Smajić, nastavnice iz Srebrenice, koja je nosila hidžab, tradicionalnu islamsku odjeću.
Nakon sjednice, novoizabrana predsjednica Republike Srpske, Željka Cvijanović, preuzela je dužnost u kancelariji. Nakon ceremonije rekla je da će njen prvi dan na novoj poziciji biti veoma užurban. Kao prvi potez, ona će predložiti visokog zvaničnika SNSD, Radovana Viškovića, za čovjeka koji će je naslediti na položaju premijera RS./IBNA