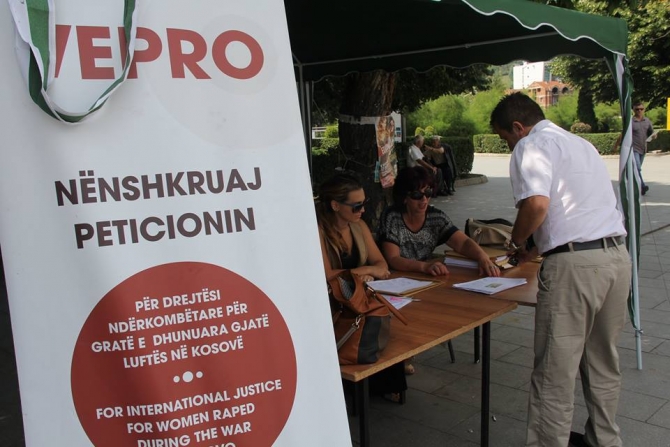 IBNA Special Report
Pristina, September 24, 2014/Independent Balkan News Agency
By Elton Tota
The prime minister of Kosovo's office has announced that all the legal structure that enables the establishment of the government committee which will verify the women raped during the war, will be ready until October.
It's been six months since parliament added victims of sexual violence during the war in the law for the rights of martyrs, invalids, veterans and members of the Kosovo Liberation Army.
Based on this law, within six months, the government had to establish a government committee, which verifies and gives to women the status of the victims of sexual violence during the war.
In these six months since this bill was approved, the government has issued different decisions, but it has not managed to meet the obligations stemming from this law.
Legal office of the prime minister has provided explanations in relation to this issue.
Besim Kajtazi, head of the prime minister's legal office declared that there have been several meetings with the National Committee for those who Survived to Sexual Violence during the war. All of this to coordinate actions in the establishment of a verifying committee.
"Based on consults that we've had, until the end of October, the government will establish the committee for the recognition and verification of the persons who have been violated during the war", says Kajtazi.
In order to be given this status, victims of sexual violence must undergo a government committee which verifies their status. This ad hoc committee will consist on nine members.
Besides the prime minister's office, one member will belong to the Ministry of Justice, one member to the Ministry of Health and member from the Ministry of Social Wellbeing, which will allocate the funds for these victims.
Part of the committee will also be a lawyer, psychologist, psychiatrist and a member from the Institute for War Crimes.
According to Kajtazi, the organization of work, tasks, responsibilities, payments and other important issues concerning the government committee will be determined by a government bylaw.
Nevertheless, he has not been able to explain how the verification will be made.
Meanwhile, Ismet Salihu, head of the Institute for War Crimes, which leads the work to discover the locations where rapes have taken place during the war, says that the government has not paid a lot of attention to the law and the committee.
"A committee which prepares the procedures and bylaws had to be formed within six months, in order to verify the victims and to take them under protection, but so far, nothing has been done", says Salihu.
Besides the approval of this law, a group of women MPs and civil society collected 170 thousand signatures, for a petition which demands international justice for women raped in Kosovo.
But, since the collection of the signatures, there has been no further step as far as this petition is concerned.
Based on information, over 20 thousand women have been raped during the war in Kosovo. So far, the Institute for War Crimes has managed to verify 79 locations throughout Kosovo, where systematic rapes of women have taken place. /ibna/