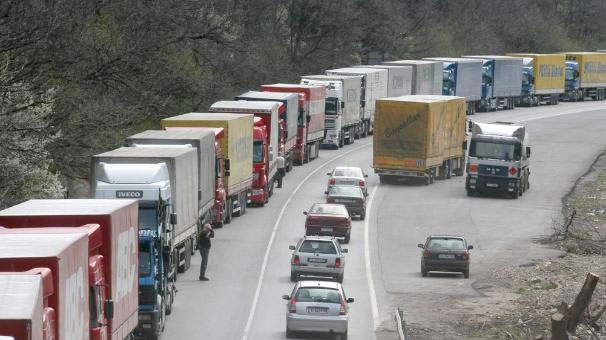 By Clive Leviev-Sawyer of the Bulgarian Globe
The dispute between Bulgaria and Turkey over the issuing of transit licences for trucks is continuing, and the Foreign Ministry in Sofia has issued a warning to travellers to expect possible delays.
Turkey has blamed Bulgaria for the problem, with Turkish transport minister Lyutvi Elvan saying that the Turkish association of international hauliers has complained of unfairness on the part of Bulgaria.
Ankara has said that Bulgaria has provided only 15 000 transit permits from the quota of 125 000 permits for Turkey for 2014. Turkey has reciprocated by closing off the access of Bulgarian lorries at the Kapikule border crossing, reports said.
When provided with the outstanding permits, Turkey will open its borders to Bulgarian goods lorries.
Elvan said that he hoped that the problem would be resolved soon.
Turkish media said that Turkish freight trucks were heading on an alternative route via Greece, reportedly in turn causing long queues at the Turkish-Greek border, and also were resorting to sea routes.
Today's Zaman quoted the İstanbul-based Economic Development Foundation (İKV) as saying on February 4 that Bulgaria preventing the transit of Turkish trucks is against the rules of the European Union Customs Union (EUCU) and the World Trade Organization (WTO). The İKV said that the European Commission needs to make Bulgaria end the crisis and called on the Turkish companies to go to the European Court of Justice (ECJ) to ask for compensation from Bulgaria for their losses, Today's Zaman said.
The same day, Bulgaria's Foreign Ministry warned travellers to Turkey of a build-up of lorries at the Kapitan Andreevo – Kapikule border crossing. If necessary, Bulgarian citizens could approach the country's ministry of transport and communications for further information, the Foreign Ministry said.