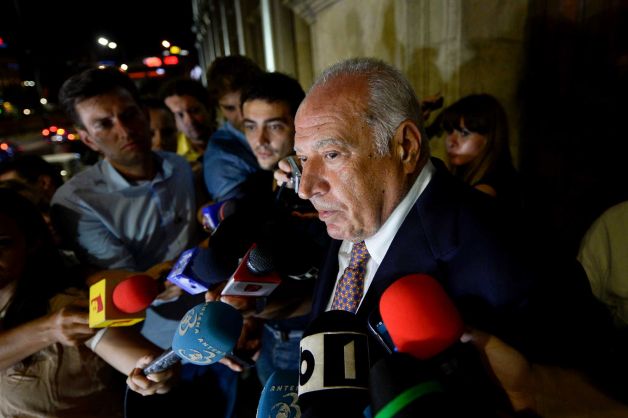 By  Daniel Stroe – Bucharest
A march called by supporters of imprisoned media tycoon Dan Voiculescu turned violent after participants started attacking reporters from rival TV stations despite a heavy presence of law enforcement agents who are accused of turning a blind eye on the events.
The march called "walk against the state"was organized by Antena 3, the news TV station owned by Voiculescu, sentenced to 10 years in prison in a notorious nine year long corruption trial. Antena 3 accusses the trial is a political vendetta set up by President Traian Basescu, who was twice impeached, in 2007 and 2012, following machinations of Voiculescu. Almost 4000 people, most of them pensioners, answered the call to march launched by Antena 3 stars.
The meeting lasted about two hours during which traffic was blocked around the Cotroceni Palace, the presidential seat. Marchers chanted slogans against President Basescu whom they deem responsible for Voiculescu's prison term. The fall of Voiculescu, deemed one of the most influential politician in Romania, has sent shock waves across the country's political spectrum.
The march was denounced by mainstream media as an abrupt act of propaganda and manipulation and interference with the state judicial affairs. Several politicians mixed with the protesters which also raised questions as to the real purpose behind the public meeting.
Things got complicated when reporters of B1 TV and Realitatea TV, stations which support President Basescu and stood up for the justice in Voiculescu's case, were attacked by several protesters without the gendarmes to intervene. Inquired about the incident, the spokeswoman of the Bucharest Gendarmes Division said the agents showed up when the incident was over and their involvement was no longer necessary. B1 TV aired footage with the aggressor kicking their reporter in the back and asked viewers to identify the man. A complaint was also lodged at a police station. Police said they had identified the man and summoned him for questioning with the inquity pending. A driver who got stuck in the middle of the march asked for explanations from a traffic policeman and was verbally abused by protesters.
Gendarmes'lack of reaction sparked speculations they had received orders to stand back. Voiculescu was an ally of PM Victor Ponta and Ponta is using the mogul's media empire to promote his political agenda ahead of the presidential elections this fall in which the prime-minister if the favorite. Some voices warn that, if Ponta becomes the next president of Romania, he may pardon Voiculescu, even though Ponta made no such suggestion. But the march on Sunday showed Antena 3's power of manipulation ahead of the crucial poll this November and signals the beginning of a fierce electoral battle in which all stakes are on the table.