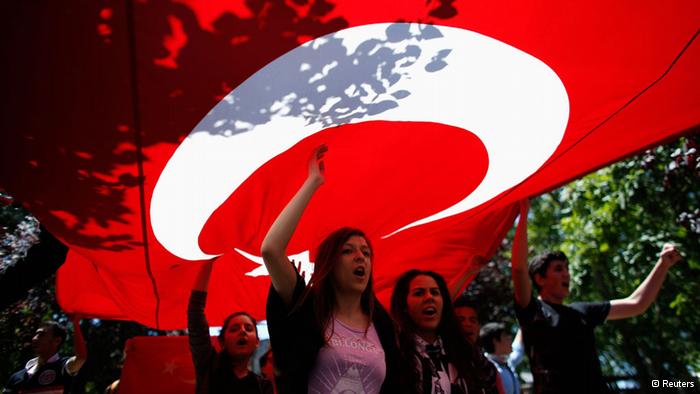 By Manolis Kostidis – Istanbul
Trouble again in Taksim Square
In a show of power against Germany, Erdogan staged a large Justice and Development party rally in Dusseldorf!
Nearly 12.000 Turks gathered in the city's central square holding Turkish and AKP flags and shouted slogans in support of the Turkish Prime Minister.
Erdogan addressed the rally via satellite connection and was quick to condemn the military coup in Egypt, stressing "we are against such practices as we are the victims of such these coups".
The rally was held in Germany as part of counter-demonstrations staged in Turkey in response to Gezi park protests.
Furthermore, it was perhaps a message to Angela Merkel too – who accuses Turkey's government of undemocratic behavior – reminding her of the strength of Turkish voters in Germany's upcoming elections.
Meanwhile, on Saturday night, Turkish police attempted to deter a large crowd from gathering in Gezi park yet again. Through use of armored vehicles and tear gas, gatherings at Taksim Square were not allowed to go ahead. Strangely enough, several people in civilian clothes were seen hitting protestors with bats and spreading terror. Police announced those men were shop owners who were arrested and later released. Protestors maintain those holding the bats may have been police officers.