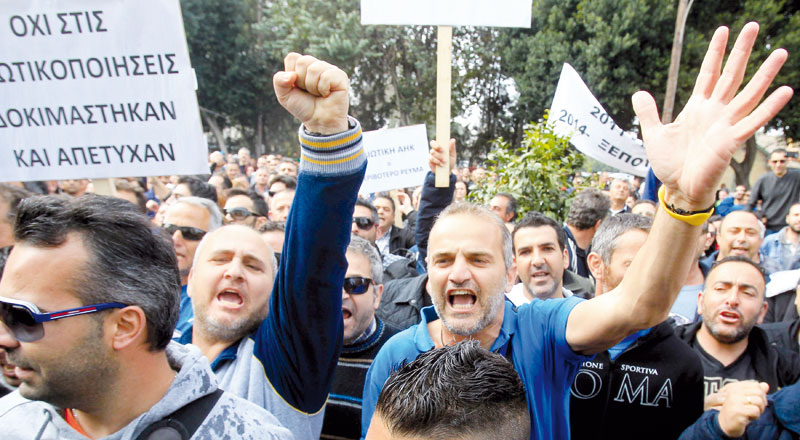 By Kyriacos Kyriacou-Nicosia
The government yesterday formally informed parliament of its selection of a commissioner for privatisations.
The choice for the job is Constantinos Herodotou, a graduate of the London Business School. The privatisations commissioner will serve a four-year term. Herodotou had been confirmed by the cabinet as commissioner in late April following a recruitment and selection process that was contracted out to PricewaterhouseCoopers.
Under the relevant law, the government must then inform lawmakers of its selection. The privatisations commissioner will be responsible for directing and supervising all the activities of a privatisations unit.
Privatising semi-government organisations and state-owned enterprises is a condition for a €10bn international bailout. Under the deal, Cyprus must raise at least €1bn by the end of its economic adjustment programme and an additional €400m by 2018 at the latest, with the cash used to pay down the national debt.
Three big organisations
The privatisations unit will oversee the denationalization of several state-owned enterprises – such as the Cyprus Telecommunications Authority (CyTA) and Electricity Authority of Cyprus (EAC) – but not the Cyprus Ports Authority (CPA), for which other procedures hold.
CyTA offers telecommunication services (landline and mobile telephony, internet and broadband services, cable television) both within Cyprus as well as abroad, with its presence in Greece.
The activites of EAC include four distinct areas, production of Electrical Energy, transfer of Electrical Energy from transfer lines and high voltage electrical installations, distribution of Electrical Energy and supply of Electrical Energy, which means the sale, including re-sale, of electrical energy to consumers.
CPA operates as the managing organisation of Cyprus ports and fuel station terminals. It also exercises operations in relation to the coordination and control of related port service providers (commercial value activities).
The privatisation plan, which includes other smaller semi-goverment organisations, has caused several reactions from thousands workers at CYTA, CPA and EAC. Last February, when the privatization's bill discussion took place at the Parliament, the workers went on strikes, in fear of the organisations' future.