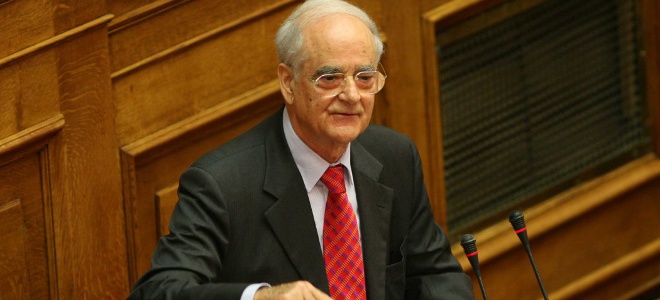 By Spiros Sideris – Athens
With the variation of the former Speaker of Parliament Mr. Kaklamanis (photo) in the recorded vote that was called for by SYRIZA, finally passed the bill on political money, which opens the way for the private funding of political parties by individuals and private entities.
Mr. Kaklamanis voted against this legislation, while voted for a provision for the denomination of tokens for the financial support of parties, against which stood the entire opposition.
Thus, for private funding voted on all 263 votes cast, 147 "for" over 116 "against", while on the registering of coupon 148 voted "for" over 115 "against".
Responding to criticism of the opposition parties who spoke of the Americanisation of the function of parties through the legalisation of their funding from private interests and their transformation into "SA parties", Interior minister Argyris Dinopoulos stated that with the legislation in question "comes a legal framework so that an individual – legal or natural person – can finance a political party with a cap and a framework that will make the name and amount known".
Mr. Dinopoulos also pointed out that this system applies not only in America but also in Europe, while on the denomination of vouchers, he criticised the main opposition for their negative attitude, despite the fact that there is no denomination for amounts of financial aid up to EUR 150,000.