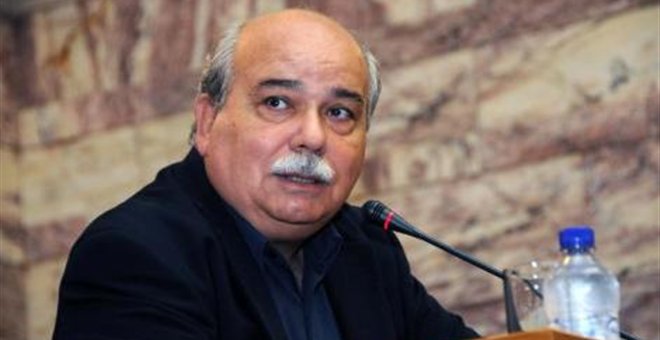 Athens, April 8, 2015/ Independent Balkan News Agency
By Spiros Sideris
Interior Minister Nikos Voutsis used bleak colours to describe the situation in the sector of television stations nationwide during the discussion of the bill for the reopening of ERT (Greek National Television and Radio) in the competent parliamentary committee. The minister even asked for the re-examination of the "major shareholder" arguing that "the ownership, the incompatibilities, the major shareholder should be discussed".
"How many frequencies fit in Greece that are sustainable?" Voutsis wondered, to answer "two, two and a half, three! Not, however, eight or seven. On those frequencies prominent role will play the public television. All discussions held both in the analog and digital spectrum did not provide for that".
Regarding the closing of ERT, he argued that it was "a great Deal, a great gift to private channels. It was the obsession Antonis Samaras… The closing of ERT was a gift to the transactional relationship that developed between the tripartite government and private stations and because of this situation DIMAR departed. When we say for ERT to be reinstated to its previous situation, we are speaking of the whole of its structures so that it can paly a major role in the media".
He added that the Greek National Council for Radio and Television (NCRTV) showed "complete inability to intervene for so many years, during the transition from one era to the other, while it had the legislative coverage and the obligation to proceed to controls".
The minister also stressed that there should be answers on what will happen with Digea, because "it was one of the biggest scandals of the previous period. There is the basic incompatibility. Because the program provider is the one who makes the decisions regarding who gives and distributes frequencies".