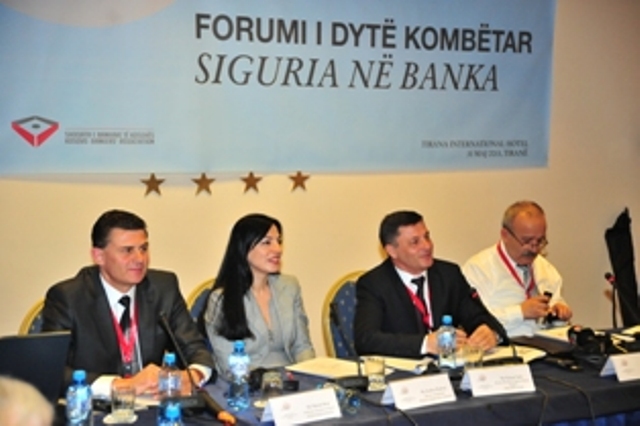 Tirana, May 31, 2013 – The Albanian Association of Banks and AAB Bank Security Committee organized the 2nd National Forum on Bank Security, held for the second consecutive year. Representatives from commercial banks in Albania and Kosovo, Bank of Albania, General Directorate of State Police, Physical Defence and Security Companies (SHRSF), and companies which offer services and products in the banking security sector, gathered to discuss on bank security issues.
In their speech, Ms Endrita Xhaferaj, AAB Secretary General, and Mr Roland Tashi, Head of AAB Bank Security Committee, mentioned the need for increasing the continuous collaboration aiming at raising the security level, both with the state police and other law enforcement institutions.
During the two sessions of the forum, were addressed topics such as: the latest developments on physical and electronic security, the evolution of the crime of banks robbery, the role of the AAB Security Committee on enhancing security, the collaboration between police and physical defence and security companies and the need for training, the development in technology related to security issues, private security in EU countries, etc.
A special presentation was that of the study on banks security comprising a period of 12 years, 2000 – 2012, which reflected all the cases occurred during this period in our country, and recommending measures for security improvement.
The representatives of the General Directorate of State Police emphasized the need for collaboration among the institutions to prevent the evolution of robberies.
Also, representatives of banks and General Directorate of State Police in Kosovo analyzed concrete bank robbery cases and informed the participants on the work and challenges of the Security Committee under the Kosovo Banking Association.
The participants at the Forum appreciated the achievements during this year, stating the need on improvement in organization and operation of security structures in banks, risk evaluation, and on increasing collaboration with other public institutions, responsible for the public security. /ibna/