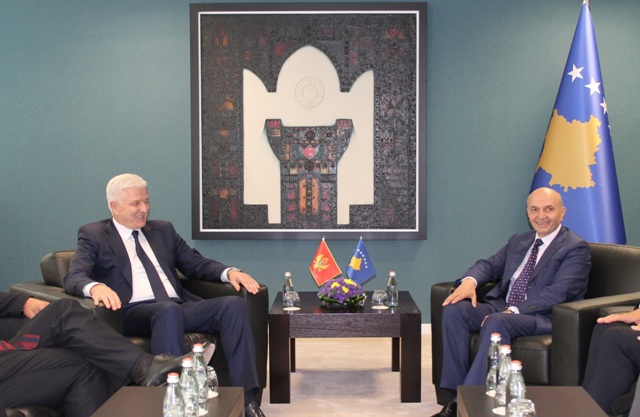 Governments of Kosovo and Montenegro are holding fresh talks about the border demarcation between the two countries.
Prime Minister of Kosovo, Isa Mustafa met on Sunday at noon in Shkoder (Albania) with the Prime Minister of Montenegro, Dushko Markovic.
The meeting had not been announced officially, therefore the presence of the cars of the two personalities and their escorts, attracted the attention of the media and public opinion.
In this meeting (photo), the two prime ministers discussed the issue of demarcation, the determination of terrestrial territorial borders between the two countries, which is a pending issue, because the opposition in Kosovo is against the plan agreed by Pristina and Podgorica.
None of the two governments issued any official information on the results of the meeting, especially on this delicate issue.
Meanwhile, it was officially communicated that the sides talked about issues that relate to bilateral cooperation. They agreed on a general intensification of relations, especially on the economic cooperation of the two countries. According to official statement of the government of Kosovo, Prime Minister Mustafa and Prime Minister Markovic, also talked about current developments in the region.
According to the government of Montenegro, PM Dushko Markovic met with PM Mustafa upon the incentive of the latter.
"During this meeting, the two leaders discussed current bilateral issues and agreed to boost cooperation in the future, especially economic cooperation between the two countries", the statement issued by the government of Montenegro says. /balkaneu.com/