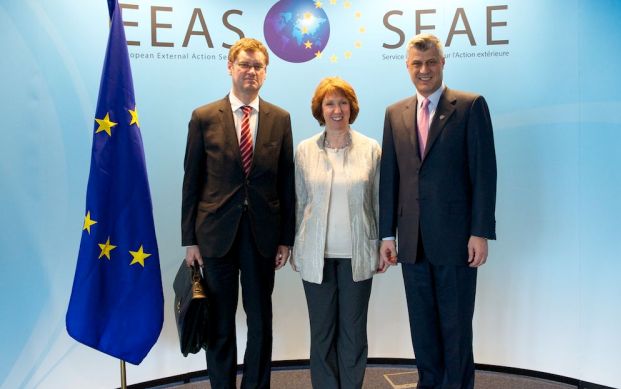 Brussels April 2, 2013
The meeting in Brussels between Kosovo's PM Hashim Thaçi and Serb PM Ivica Dacic started around 10:30, our Brussels corresponded reports. The meeting will initially be a bilateral one.
After the bilateral concludes, both the prime ministers will meet Baroness Catherine Ashton.
The meeting is being held with the aim of establishing normal relations between the two countries, is expected to go on until late in the afternoon when the trilateral meeting with the Baroness is expected to start.
Yesterday Baroness Ashton's office released a press statement which said that the 8th round of meetings should bring about an ultimate agreement between the two countries. Before his departure for Brussels, Thaçi said he was going to Brussels to reach an agreement with Serbia.
But this goal seems to run into resistance from the Serb side. According to Serb media, Belgrade expects unfavorable results from the Brussels negotiations.
In a sign of opposition to the expected agreement, Serbs have warned the holding of an assembly in Northern Kosovo which they claim to be part of the Serb territory.
According to Belgrade daily "Danas," protests will ensue in Serbia if an agreement is reached. /ibna/