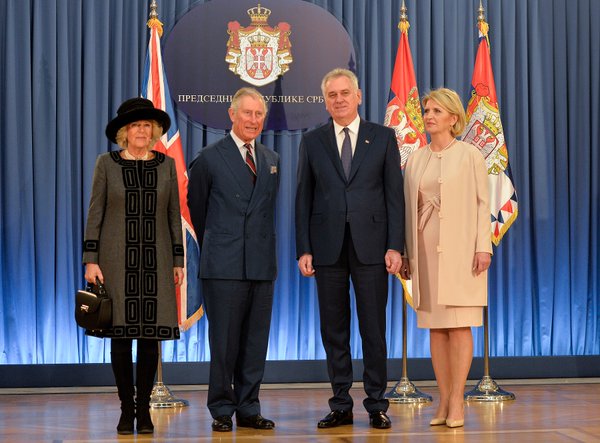 Belgrade, March 16, 2016/Independent Balkan News Agency
By Milos Mitrovic
Prince of Wales Charles and Duchess of Cornwall Camilla have arrived on two days visit to Serbia on Wednesday. Serbian Prime Minister Aleksandar Vucic and Parliament Speaker Maja Gojkovic have welcomed them at the "Nikola Tesla" airport in Belgrade.
Shortly after the arrival, Prince and Duchess have been received by President Tomislav Nikolic who gave presents to his guests. "The Christian Heritage of Kosovo and Metohija" – photo book in English, was among the gifts. Nikolic was accompanied with his spouse Dragica.
Nikolic and Charles have discussed the "long friendship" between Serbia and United Kingdom  "forged in the Second World War", as well as current situation in the Europe and relations among the former Yugoslav republics, President's cabinet stated in its press release.
The prince was interested in Nikolic's recent visit to Moscow, the cabinet added.
Nikolic and Charles laid wreaths at the monuments of Belgrade defenders in First World War and Commonwealth Military Cemetery in Belgrade.
Prince of Wales and Duchess of Cornwall, together with historian Dubravka Stojanovic, then visited the Kalemegdan fortification and park.
Afterwards, the British royal couple and UK ambassador in Serbia Denis Keefe met with the representatives of Christian churches, Islam and Jews communities in Serbia. In a separate occasion Charles had a meeting with Serbian Orthodox Church's Patriarch Irinej.
Duchess Camilla visited the centre for infants, children and youth care in Belgrade.
Charles's and Camilla's today's activities were concluded with the visit to Prince Aleksandar Karadjordjevic and Princess Katarina in their palace in Belgrade.
Tomorrow the British royal couple will continue their tour to Montenegro.
Previously, Prince Charles had visited Belgrade in 1978.