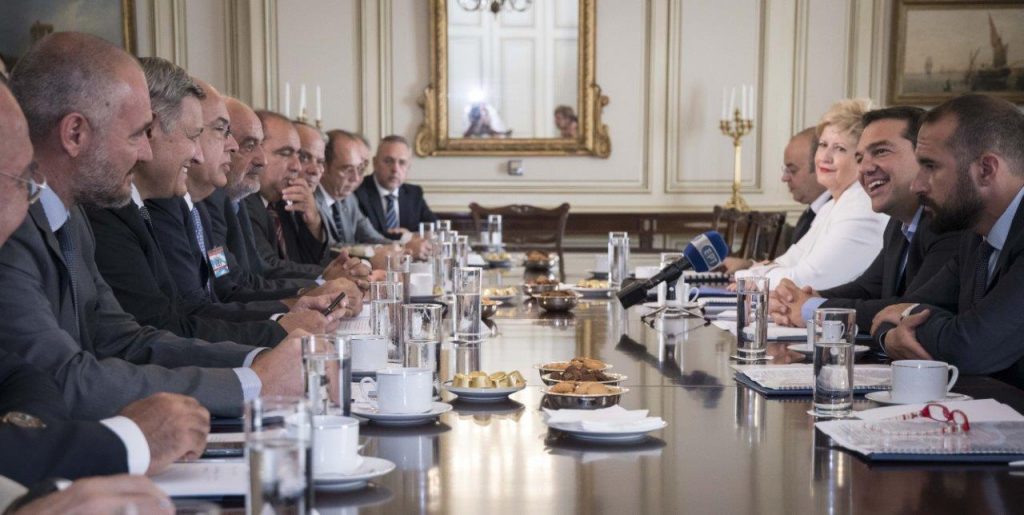 Athens, September 2, 2016/Independent Balkan News Agency
By Spiros Sideris
The creation of a Prime Minister's Office in Thessaloniki announced Alexis Tsipras to productive institutions of Thessaloniki and Northern Greece, during a meeting they had at noon Thursday at the Maximos Mansion, in view of the inauguration and visit to the 81st Thessaloniki International Fair (TIF ), on September 10-11.
The premier, besides the briefing he has requested from the ministers in order to prepare his programmatic speech in TIF, began a series of contacts with industrial establishments in Northern Greece, showing the mood to seriously deal with the problems of the region, but also the large projects that are scheduled for the near future.
Thessaloniki is a focal point in a series of investments to be made in the near future in Macedonia and Thrace, as the TAP pipeline, linking Istanbul – Thessaloniki – Igoumenitsa, privatization of the Port of Thessaloniki (THPA), the rail extensions and the expansion of "Macedonia" Airport, marking the beginning of a long period of development projects in the region.
According to information from the bodies attended the meeting, Tsipras announced to them that he is planning to create in Thessaloniki a branch of the Office of the Prime Minister, which will hold meetings with factors Thessaloniki and Northern Greece. According to the same information, at the office in Thessaloniki he will also hold meetings with leaders of the Balkan countries, when they visit Greece, a practice which Foreign Minister Nikos Kotzias has already begun for some time now.
Welcoming the productive bodies at the Maximos Mansion, Tsipras invited them to become allies in the great effort for recovery and productive reconstruction and said:
"We will try so that this dialogue does not take place anniversary and occasionally each September with the occasion of the TIF, but become permanent, so that we can find the best possible solutions on the problems yourselves and ourselves face".
During their meeting with the Prime Minister, representatives of the productive bodies highlighted all matters affecting them, but also more general issues, such as issues of liquidity and "red-loans', and local issues, such as the one concerning the port of the city.
In addition, Tsipras pledged that the Thessaloniki International Fair will remain where it is and will not be moved.