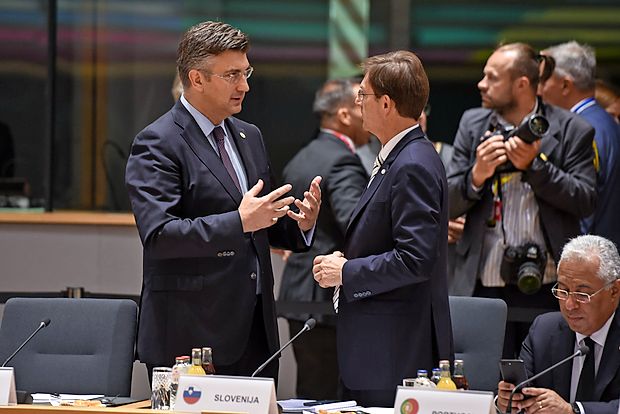 By Maria Psara
Slovenian Prime Minister  Miro Cerar and Croatian Prime Minister Andrej Plenković will meet to discuss the decision made by the Arbitration Tribunal of the Permanent Court of Arbitration regarding the maritime and land borders between the two countries on 12th of July.
The meeting was announced by Vice-President Timmermans after the read out of Commissioners earlier today in Strasbourg.
"The Commission welcomes the fact that both the Prime Minister of Slovenia and the Prime Minister of Croatia will meet on 12 July and have agreed that no unilateral steps would be taken before then. The Commission hopes that both Prime Ministers can come to an agreement on how best to implement the award", said the Vice – President. As he stated, the Commission stands ready to contribute to or facilitate to this process.
The final award  was issued on 29 June by the Arbitration Tribunal of the Permanent Court of Arbitration in The Hague and refers to the territorial and maritime dispute between Croatia and Slovenia.
The dispute dates back to the 1991 break-up of Yugoslavia. Both countries claimed a small area of water in the Gulf of Piran. For Slovenia, the case is important because the country doesn't have access to the international waters because vessels have to pass through either Italian or Croatian waters first. Croatia rejected this.
Meanwhile, in 2004, Slovenia joined the EU and in 2008 blocked Croatia's participation to the EU because of the dispute. Zagreb and Ljubliana agreed to go to the arbitration process in 2009. In 2013, the enlargement of EU included Croatia. The procedure at the Court was the reason why Slovenia didn't VETO Croatia's access to the EU.
Last Thursday's decision grants Slovenia a 10-mile-long sea "corridor", that would provide the access to the international water. However it remains unclear how it will be implemented. Croatia's first reaction was negative. Croatian officials said that the country would not respect the result, because the arbitration process was tainted after it emerged in 2015 that a Slovenian official had discussed the case with a member of the arbitration committee. Slovenia does not accept this charge.
"This is an issue that has been going on for more than 20 years. The Commission has always been supportive of the peaceful settlement of border disputes between Member States. In this particular process we have also acted as facilitator, leading to the establishment of the arbitration process in 2009", Timmermans said.
"In this particular case, now that there is a decision, the Commission takes good note of the final award and expects both parties to implement it….The Commission of course stands ready to contribute to or facilitate this process. Once this process s underway the College will come back to the issue to discuss the progress and see how the Commission can help bring about a full and just implementation of the award", he added./IBNA