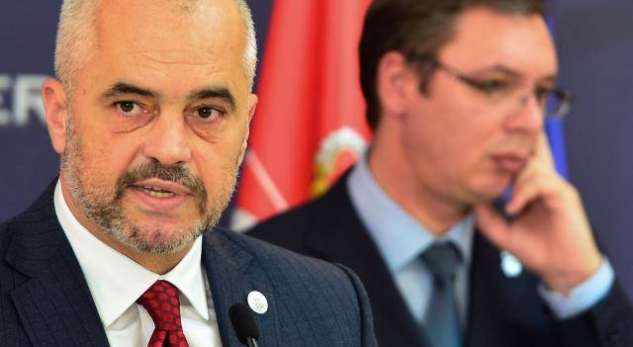 Tirana, 9 October 2015/Independent Balkan News Agency
The result of the Balkan derby between Albania and Serbia, was commented, as expected, by prime ministers Edi Rama and Aleksandar Vucic. Both of them have chosen social networks. "The draw would be fairer, but this is football", Mr. Rama said.
Rama praised the fact that the match went without any incidents. "The best man of the match was the fantastic red and black public". Meanwhile, he says that he hasn't lost hopes on a qualification to Euro 2016: "Our dream will continue in Armenia".
Rama said that Albanians were "fantastic" in supporting the team for 90 minutes, "but also in proving that there was a clear difference between the suffocating atmosphere in the Belgrade stadium and the festive atmosphere in Elbasan Arena".
"For 94 minutes, no racist chant was heard. No Serb player was verbally attacked. Not only the ugly scenes of strong objects that flied above the heads our players during the match a year ago, were not repeated at all, but the captain of the Serb team was applauded when he was substituted as a result of an injury", Mr. Rama said.
Meanwhile, the Serb PM, Aleksandar Vucic, said that the Serb national side fully deserved the victory.
"Our team deserved the victory in this honest match played tonight", Vucic commented.
After the events in Belgrade last year, the two prime ministers had exchanged numerous declarations, where football and politics were at the focus of attention.
On Thursday, the Serb Prime Minister made a last minute cancellation of his journey to Elbasan Arena to respond to the reiterated invites of his Albanian counterpart.
More: Albania defeated by Serbia two goals to nil in Elbasan Arena