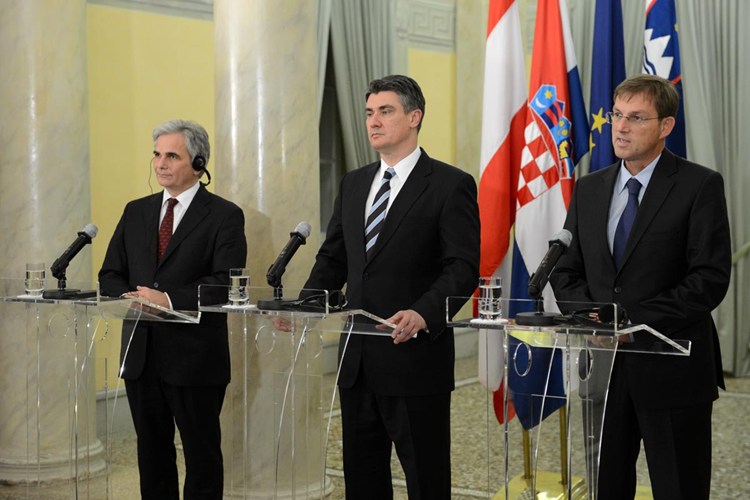 Zagreb, December 10, 2014/ Independent Balkan News Agency
By Marija Avramovic
The investment plan by European Commission President Jean Claude Juncker is a positive step, but will not pull the EU out of the crisis, assessed yesterday in Opatija the prime ministers of Croatia, Austria and Slovenia.
At the regular trilateral meeting Zoran Milanovic, Werner Faymann and Miro Cerar discussed on Juncker's EUR 315 billion investment plan for providing money for priority sectors, such as communications infrastructure, renewable energy and advanced technologies during the three-year period.
Prime ministers adopted a joint statement in which they stressed the importance of regular meetings to further strengthen the excellent cooperation on various issues of regional and European importance.
Due to flooding, which have been devastating this part of the Union at an alarming rate, they emphasised the special importance of investments that will reduce the risk of flooding.
"I believe that Juncker's program will be successful, but it is a small step. It takes a lot more for the economic turnaround, for employment, particularly for young people", Fayman said at a press conference after the meeting.
Milanovic believes that in Europe too much attention is given to savings at all costs, rather than more stimulus and spending.
German unification was a costly affair, but it was bigger than just money. Croatian Motorways are expensive, but without them there would not be twelve million tourists, 75 million overnight stays and seven million in revenues", Milanovic noted.
Three prime ministers also discussed energy cooperation, a few days after Russia withdrew from the construction of the South Stream pipeline to Central Europe.
Milanovic said that Croatia wanted to be an energy hub of this part of the old continent through the  future LNG terminal on Krk and the Trans Adriatic Pipeline from Azerbaijan.
"To Croatia and our partners in Central Europe this is what is at their disposal", Milanovic suggested.
Slovenian prime minister said that Slovenia may sue Croatia, if Zagreb does not recognise the debt of Croatian companies to Ljubljanska Banka and Croatian Prime Minister replied that it was not a state matter, but the issue is between the bank and these companies.
Even though the subject was not on the agenda for this trilateral meeting between the three prime ministers, journalists asked Cerar and Milanovic about this long-standing issue between the two countries.