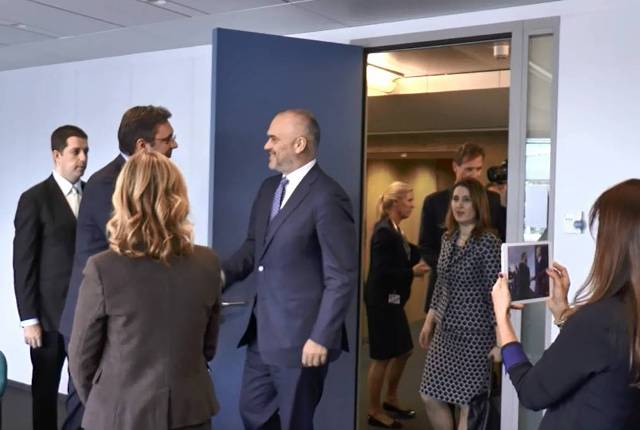 Brussels, April 21, 2015/Independent Balkan News Agency
Albanian PM Edi Rama and the Serb PM, Aleksandar Vucic, met in Brussels today where they jointly called upon the EU to back the infrastructural projects that they have prepared.
IBNA learns that the conversation between the two PMs was focused on the joint projects of the Western Balkan countries, which will be presented in today's meeting between the leaders of these countries and senior EU officials.
The projects for which the two prime ministers gave their full support were the highway linking Nis to Pristina and Durres, the railway that will link Belgrade to Budapest and the Adriatic Ionian highway that links Albania to Montenegro and Croatia in the north and Greece in the south of Albania.
In the meeting with Mr. Vucic, Mr. Rama said that the relations between Albania and Serbia are very important for the stability and economic and social development of the Balkan region and Europe in general.
"Serbia and Albania must see forward", said Mr. Rama, "doing for Balkan what Germany and France did after the Second World War for Europe. It's important to understand that the whole of Balkan needs the European Union the same way that the EU needs the Balkan".
PM Vucic expressed the support of the Serb government for the projects that were discussed. He demanded the European support. "The European Union must understand and back the Western Balkan countries and the support for our projects would boost the economies of both countries".
The Serb PM has confirmed his visit to Albania at the end of May, where he will participate in the SECP conference in Tirana.
Today's meeting between Rama and Vucic was held at a time when the prime ministers of the region are in Brussels for the Balkan Summit which is being organized by the European Commission. /ibna/