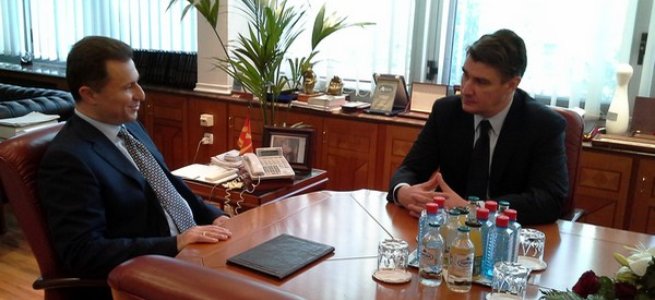 By Marija Avramovic – Zagreb
Prime Minister Zoran Milanovic today is on a one-day working visit to FYR Macedonia, where he will met with Macedonian Prime Minister Nikola Gruevski and State President Dorgeo Ivanov.
Croatian and FYR Macedonian delegations will discuss the possibilities for improving cooperation between them, despite the fact that the two countries have no open international issues.
FYR Macedonia has a desire to join the Euro-Atlantic integration, but its neighbor Greece is vetoing its course towards NATO, over the name of the former Yugoslav Republic.
Croatia has on several occasions expressed support to FYR Macedonia on its road to NATO.
The two delegations also talked about improving the trade, which lags behind the excellent political relations between the two countries.
Macedonian Prime Minister Gruevski was in Zagreb a year ago, on which ocassion Milanovic said that Croatia considered that with FYR Macedonia negotiations on EU membership should soon be openedand and that it already had to be a NATO member.
While visiting FYR Macedonia, Milanovic also managed to extend his congratulations to Croatian tennis player Marin Cilic on winning U.S. Open tournament last night and wished him excellent sporting success in the future.