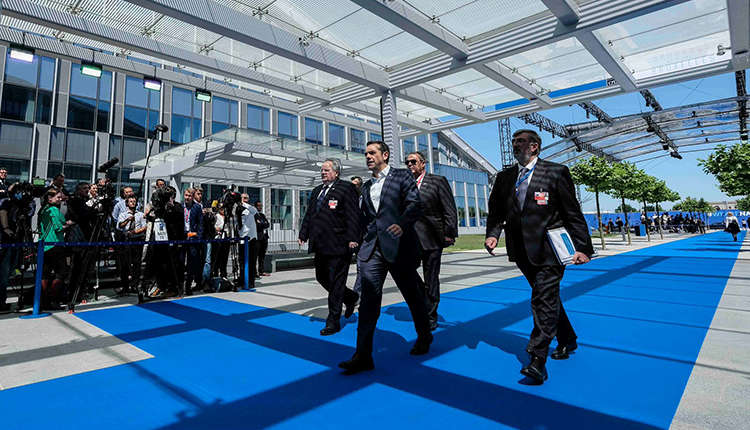 By Voula Kechagia
Prime Minister Alexis Tsipras is in Tallinn, Estonia, for the EU's leaders Summit. The Summit has as its main focus the Digital Agenda but it is considered to be of particular interest as it is the first meeting of European leaders immediately after the German elections.
The Prime Minister has no fixed appointments in the Estonian capital but it is certain that he will have meetings with other leaders during the Summit where he will exchange views on the future of the Eurozone, something he has already done with Emmanuel Macron and Paolo Gentiloni.
While the prime minister will hold talks with other European leaders about their plans for the future of the EU, in Athens, the government will be preparing for the third fiscal assessment process, and will be attempting trying to get rid of any "issues" that can create problems in concluding the deal. One of the government's main concerns is the IMF's call for a new recapitalization of the banking sector, a claim that is firmly rejected by the Greek government, which considers that no new recapitalization is needed after the last successful one in 2015. It is true that, in the recapitalization of 2015, 25 billion euros were made available to the Greek banks, out of which only 14 billion were used to cover the capital needs of Greek banks.
The government appears to have as a close ally in this matter the ECB as Mario Draghi thinks that there is no issue for a new recapitalization of the Greek banks, but only an issue of additional checks and controls which is a given in any case within the context of the European system of checks and balances. The vice-chairman Mr. Yiannis Dragasagis did not try to hide his dissatisfaction with the issues raised by the IMF and he raised the issue during his interview at the first program of the Greek State Radio "asking about the IMF's obsession and its basis" where he also raised the question "whether anyone wants through Greece – being used as a major experiment – to solve other problems that concern either the presence or not of the IMF in Europe or anything else. "
Reports claim that Finance Minister Euclid Tsakalotos has taken up the issue with the ECB and Mario Draghi.
Energy and Environment Minister Mr. George Stathakis met in Brussels with Economic and Monetary Affairs Commissioner Pierre Moscovici who to be appeared optimistic about the timely completion of the third fiscal valuation. During the meeting, the issue of the sale of DESFA (66%), the issue of the sale of PPC's lignite units (40%) and the question of further developing and freeing up the gas market in the retail sector were discussed./IBNA
Source: The Greek Observer