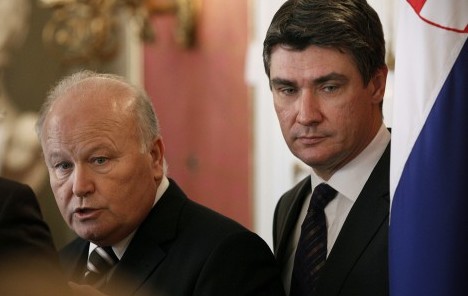 By Marija Avramovic – Zagreb
Yesterday afternoon, after the proposal of Prime Minister Zoran Milanovic, the Presidency of the Social Democratic Party (SDP) suggested the party's Head Committe expel Slavko Linic from the party.
The committee's decision to write off Linic from the party must be confirmed by voting on Saturday with a simple majority, which means that, with a minimum quorum, 26 out of the 101 members of this body could theoretically be enough. In such a scenario, HC also must decide whether the proposal for Linic exclusion will be voted publicly or secretly, which might impact whether the proposal of the Presidency will be confirmed and in which majority.
According to Croatian media, four members of the presidency voted for Linic's ejection, 10 other members who were present remained silent, while only one member of the HC openly supported Milanovic's proposal.
"Linic in his public statements harms the reputation of the party and If the expulsion of Linic does not pass from the Head Committee, it will mean early elections in Croatia", Milanovic said for "Slobodna Dalmacija" daily.
Vice president of SDP Zlatko Komadina announced to reporters in front of the party's headquarters in Zagreb, that he will run for president of the party in the next elections, but did not specify whether this will happen on Saturday or in the regular intra-elections, which  should be held in two years.
Hereby, the war within the party entered an entirely new phase. Anti-Milanovic's opposition clearly has made it clear that the current party presidency has an alternative and that his position after the defeat in European elections is seriously shaken.
The vote on Saturday will also be a test for the Prime Minister, since Linic enjoys a strong support from the members of HC, not only from the Rijeka members, but also by many members of the Zagreb HC.