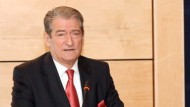 Tirana-Prime Minister Sali Berisha has congratulated the newly elected Italian Prime Minister, Enrico Letta, a few hours after his oath in parliament. "On the occasion of your election as the Prime Minister of Italy, I have the great pleasure to send you on my behalf, on behalf of the Albanian government and all the Albanian citizens, the best wishes and wish you a lot of success in the important duties that await you", says Prime Minister Berisha in his message of congratulations.
Amongst others, Prime Minister Berisha writes that "I'm convinced that under your leadership, with the vision, commitment and determination that characterizes you, your country, a close friend of Albania and of the Albanian people, will continue in the path of the important reforms and will successfully overcome the difficulties caused by the Pan European and global crisis, continuing in the path of development and further modernization, as one of the most important economies of the planet and of the European Union.
We're happy to see the excellent relations that exist at the present between our two countries, relations based on close and traditional friendship between our two countries. Italy is the main economic and commercial partner of Albania and I would like to express my utmost gratitude and that of all the Albanian people for the extraordinary support that your country has given to Albania in the NATO accession, in the visa liberalization process and in all the steps of our great project, integration in the European Union", continues the message.
Prime Minister Berisha also adds that "I can also assure you about my full commitment and the commitment of the Albanian government to strengthen and further expand the close and efficient cooperation between our two countries, both in the bilateral and international framework, in the best interest of our two peoples, peace and cooperation in the region and beyond and European integration of Albania and of the South Eastern region." /ibna/