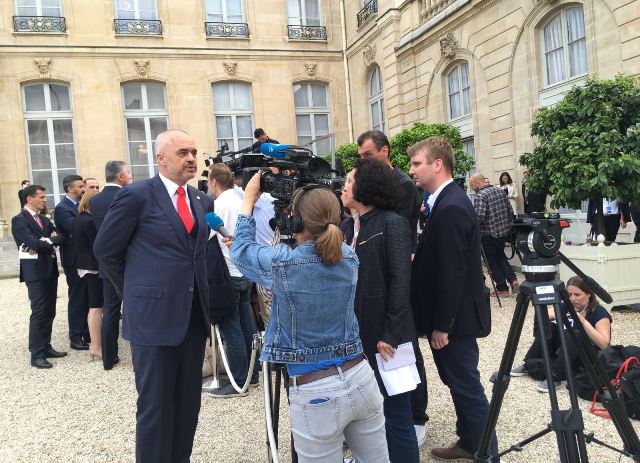 Tirana, 6 July 2016/Independent Balkan News Agency
Albanian Prime Minister, Edi Ramahas expressed his criticism against the European Union in relation to the talks regarding Albania's accession, which remain blocked.
Mr. Rama says that the failure to launch these talks will prevent the necessary conditions to move in the right path.
"We must understand that there's a crucial difference between talks and accession. To me it is clear that we are not up to the level, but in order to be up to the level after 10 years, we must negotiate today. We must negotiate, because negotiation means modernization, strengthening of institutions and building the rule of law, not only based on the values, but also based on the model of the functioning of the European Union", Prime Minister Edi Rama suggests.
Rama also addresses criticism about euro skeptics. According to him, they have no other program besides nationalism. Rama considers the fact that they don't see the EU as a project of peace and security as a paradox. "What I find weird is the fact that euro skeptics never talk of the EU as a project of peace and security. How can we be safe and guarantee a safer life for the young people? Through the European Union or by going back in the past?"
Mr. Rama sees the fact that Great Britain left the EU through a referendum as a cause for concern. According to him, Brexit can jeopardize the stability of Western Balkans, by postponing the European perspective.
"Isolating oneself in France, England and so on, means going back to a story that made the creation of the EU a necessity. What's happening now in England is something which can only have negative consequences", Mr. Rama says.
In spite of the tendency to leave the EU, where the UK recently left and the growth of perception that the Union is weakening, Mr. Rama says that Albania is determined in the path of European integration.
"We will continue in this path, as the integration process is an irreversible process of modernization. We have no other possibilities".
According to him, it is not the project which is having problems in its principles or values, but the fact that the EU project has not yet been delivered. /balkaneu.com/