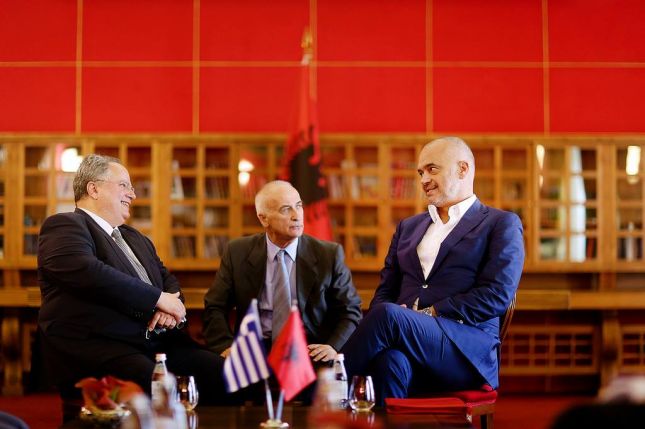 By Edison Kurani

A few hours ahead of the visit of the Greek Foreign Minister, Nikolaos Kotzias to Tirana, to discuss the package which aims at solving all pending issues between the two countries, Prime Minister Edi Rama launches clear messages of the presence of conflict with Athens, relating to several issues that keep the relations between the to countries tense.
Rama declared that "we are in war with Greece and that there's a war law in force".
Mr. Rama declared this in the congress of the Party for Justice, Integration and Unity of the deputy Speaker of Parliament, Shpetim Idrizi. With PDIU which was established to defend the rights of the Tcham community, Mr.
Rama entered a coalition two years ago, obliging PBDNJ's (Human Rights Unity Party) chairman Vangjel Dule, to resign as vice speaker of parliament and withdraw from the left wing governing coalition.
Speaking on the relations with Greece during PDIU congress, Mr. Rama said that "this government had to be serious about opening an issue which was there and which everyone pretended they didn't see", adding that  that "we are in war with Greece and there's a war law in force.
A war law with a country with which we have a treaty of friendship!".
Here, Mr. Rama addresses a question and points out the answer received by the Greek side: "Why is this war law in force and how is it possible that it has remained unchanged?! Our side was happy with the answer: "It doesn't matter, that law is worthless. We are friends, we have the Treaty of Friendship".
For this answer that the Albanian has received, Mr. Rama has another answer: "If it's worthless, is it so difficult to abolish it?!"
Mr. Rama warned that "We are very interested to take relations with Greece to another level, we want to abolish the war law".
He added: "We want to create a new standard in our friendship, a friendship without closed doors, without forbidden areas, for which nobody talks about the ghosts of the past, which intrude every time there's a need to throw fuel to the fire of divisions".
Prime Minister Rama added that "the new standard implies that the period when the rich neighbor told the poor neighbor what was possible and what was not, is long gone now".
Meanwhile, he launched another warning: "I don't know if today we are poorer than them, but however poor we are, we will not allow any neighbors or rich to treat us as if we are little. That time is long gone".
Rama said that "time was needed for our neighbors to realize this" and he added: "They have realized this and today we are taking a bigger step in order to relieve ourselves from this burden of the past".
Here, Mr. Rama also issued a message for the division of sea borders: "But liberation from the burden of the past doesn't start and doesn't end with the sea, which we do not negotiate. It is the Albanian territory that gave it away-we will not mention the name in order not to annoy the democrats who are here, because this is a party of all sides. This sea belongs to Albania and must be given back to Albania".
The sea is not everything. Mr. Rama warns that what is known as the Tcham issue will: "But it doesn't end here. It starts with the war law and continues with the fact that the Tcham issue is an issue that we must discuss".
Mr. Rama also reacted after the report earlier published by IBNA where diplomatic sources claimed the fact that according to them the Tchams had collaborated with the Nazis during the anti-fascist war.  (Full story: Foreign Ministry: There is no "Cham" issue).
"We can never accept that the Tcham community has collaborated with the Nazis. This is unacceptable historically, but this is unacceptable morally too, because the collective blaming of the Tchams is in essence their second killing and in practice, it is ridiculous. Like the political career of many families in Greece or wherever, has shown, if we stick to collective responsibility, if we stick to the responsibility of the nephew for the grandfather, then we have no other choice but sing the internazionale, to announce the
reestablishment of communism and to go back to the Tchams, like in the time of the barbarians. We are told this by those who live in democracy and who come from an old history of democracy. No!", was Mr. Rama's declaration.
PM Rama said that he was happy "of being the leader of the first Albanian political party that introduced the Tcham issue in its program. I am proud that I am the leader of the first Albanian government which not only with Greece, but with all neighbors we are determined to follow a policy of reciprocity or like your dear Foreign Minister likes to call it, strategic clarity".
Rama praised the fact that the Tcham community is strongly promoted: "I'm glad that the Tcham origin and the Tcham community is an exemplary survivor, in spite of the discrimination suffered not in one state, but in two states: A discrimination in the Greece of nationalist heat, but even in the communist Albania".
Meanwhile, he stressed that "there's no bilateral Greek-Albanian forum, there's no human rights multi-lateral forum and where without any provocation for the neighbors, our government doesn't raise this issue and doesn't try to push this problem toward a solution, because this is not a shame between neighbors. It is not a Balkan shame, but a European shame".
Then, Mr. Rama also made a promise in the congress of PDIU, a congress filled with calls for the rights of the Tchams: "I call on the Tchams of Albania, but also to Albanians like us that our government will strongly support all our effort in our legal path which was announced here today".
Greek Foreign Ministry reacts

The Greek Foreign Ministry has reacted on Sunday in relation to the comments issued by PM Edi Rama during the PDIU congress. The Greek Foreign Ministry has considered Mr. Rama's declarations as unacceptable.
It demands from Albania not to raise this "inexistent issue".
"Albania needs to realize that its European course depends on the faithful implementation of the European Union's five principles, among which is respect for justice and rule of law. This presupposes that it will respect court rulings, especially when they concern war crimes, and, instead of raising non-existent issues, implement the prerequisites and its commitments with regard to protection of the rights of the indigenous Greek National Minority.
The necessary political culture among neighbours presupposes seriousness, respect for the accurate facts of history, and a vision for relations that will not be impacted, of course, by the blatant distortion, deliberate or unwitting, of historical reality, but will be based on building – on strong foundations – a future that ensures substantial progress in bilateral relations and contributes to security and stability in the wider regjion". /balkaneu.com/