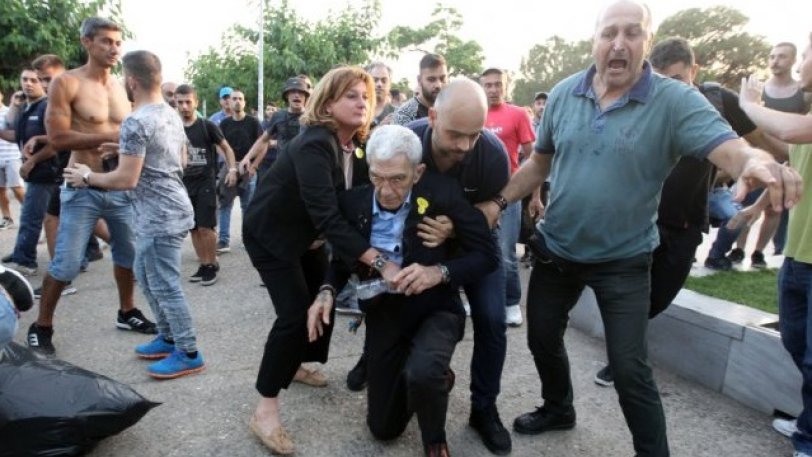 Speaking during a cabinet meeting on Monday, Greek Prime Minister Alexis Tsipras attempted to connect a lynch mob attack on Thessaloniki Mayor Yiannis Boutaris, 75, over the weekend to the main opposition New Democracy party.
Tsipras said the attack brings back memories of an "age of bloody nationalism", adding that a "concrete, dark and extreme part of the main opposition" is seen to exist. The conservative party responded by issuing an announcement charging that the "moral and political legitimation of violence in Greece carries Alexis Tsipras' signature".
The center-left Movement of Change weighed in to the discussion by commenting that both SYRIZA and New Democracy should not forget their competing in populist slogans in recent years.
Meanwhile, three individuals will appear before court on Wednesday while a minor, who was also arrested by police, will go on trial on 4 October.
A Thessaloniki prosecutor has ordered a probe into the incident, while police has also managed to identify more people who participated in the violent attack against Boutaris, during a gathering to commemorate the Pontic genocide in Thessaloniki on Saturday.
Boutaris has been targeted by nationalist groups in northern Greece and in the city of Thessaloniki in particular over his views on the FYROM name dispute and other national issues.
Associations of Pontic Greeks issued statements condemning the attack and other similar incidents. Greece's political parties all issued announcements strongly condemning the incident.
Addressing a Thessaloniki Municipal Council meeting, Boutaris himself said he has a clear idea of who assaulted him, urging those who have different political views to his own to express them in elections.
The attack against Thessaloniki mayor Yiannis Boutaris on Saturday was "shameless and unethical," European Commission spokesman Margaritis Schinas said on Monday./IBNA