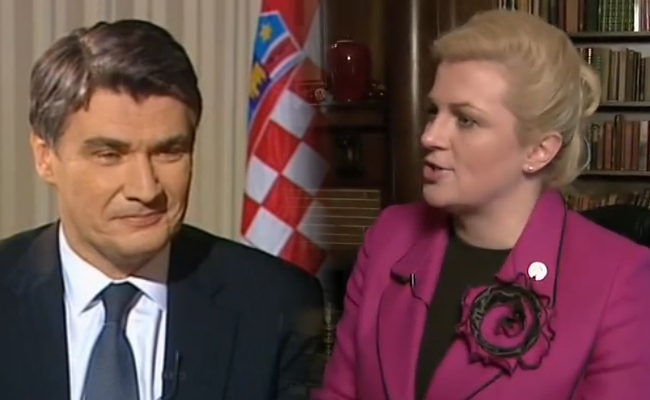 Zagreb, February 17, 2015/ Independent Balkan news Agency
By Marija Avramovic
Prime Minister Zoran Milanovic said today that he was satisfied with the atmosphere at the inauguration of the new President of the Republic Kolinda Grabar-Kitarovic and invited her to the government session the very next Thursday.
He expressed hope that she would implement in practice what she had said in her inauguration speech and thanked her for hailing in the speech former state presidents, Ivo Josipovic and Stipe Mesic.
Milanovic also sent a message to current President Josipovic that he was welcomed back to the Social Democratic Party (SDP), as a response to Josipovic's previous statement that for a while he would not get back in the party.
After the president of the largest opposition party, the Croatian Democratic Union (HDZ), Tomislav Karamarko said that the economic issues should be resolved by consensus, the prime minister said that  sounded good, but unfortunately that it was also miles away from reality.
"We have been working hard for three years, and we are faced with everyday obstruction, with the opposition which literally haven't had two coherent legislative proposals and this is the reality. So I do not know about what is that I should agree with those who have no ideas", Milanovic noted.
"I welcome every good intention, but I also expect to live, act and speak in accordance with it, to give suggestions, to criticise the government but in matters such as these it can't be a little bit like this and then a little bit in some other way", Milanovic assessed.
"The consensus in politics is welcomed, but if someone constantly crashes it, then we need to act. We work and the deed is here", the Prime Minister added, saying that there were not any concrete economic proposals from HDZ and the opposition in general.
Milanovic refused to comment on speculation about early election, saying that one can always read in the media 15 versions on when the elections would occur.
"The election will take place when they decide to dissolve the parliament and then within 45-60 days the president will call for new elections", president of SDP explained.