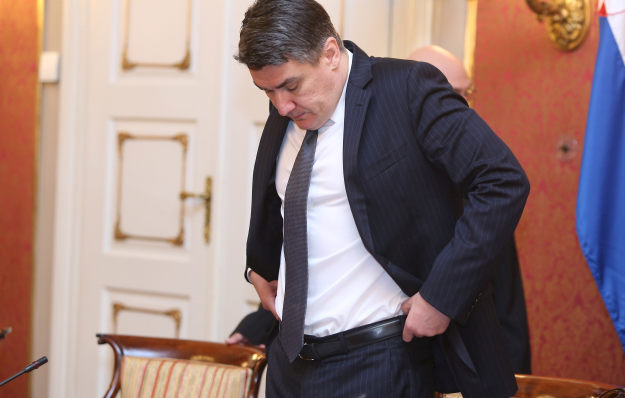 By Marija Avramovic – Zagreb
Prime Minister Zoran Milanovic will have to pay two thousand kuna (262 euro), if on November 5 he fails again to appear to court hearing to testify whether he really gave an interview to RTL television, in which he brought Mayor of Zagreb Milan Bandic in to the context with corruption.
Earlier this week, the Zagreb Municipal Civil Court decided that RTL must pay 50.000kuna as  compensation to Bandic for the statements of the Prime Minister in an interview for the said television network.
Milanovic didn't appear at the hearing on Wednesday, because at the same time he had led a session of the government's inner cabinet, but the judge of the County Court Zorka Cacic Zagrajski believes that he personally must come to confirm the allegations contained in the interview.
Unlike her, judge Vanesa Brizic Bahun, who worked on Bandic`s lawsuit against RTL, didn't insist on Milanovic's arrival to the court, but listened to the Prime Minister's interview for RTL by herself, got convinced that Milanovic had actually talked about Bandic and corruption there and on Monday fined RTL with 50.000 kuna.
"I don't have much money and I could use these 120.000. However, I'll donate it to charity because the moral satisfaction is  more important to me. Money's not important, this is about my reputation, honor, clean hands and keeping my head high", mayor Bandic commented the court's decision.
Milanovic is to visit the municipal court on September 16 as well, as the mayor of Zagreb also sued him in a civil case, in which Bandic's claims from the Prime Minister 300.000 kuna.
Bandic had sued RTL for false allegations, published on May 20, 2013 in the show "RTL Today" and  the court ruled in his favour.
After RTL had aired the interview with the Prime Minister, the Mayor sued the television saying that it published false and offensive statements and made derogatory judgments, which violated his reputation, honor and dignity.
RTL Television announced  that it would seek professional defense in court through appeals process and that it would protect journalism and the freedom of reporting in every way possible.