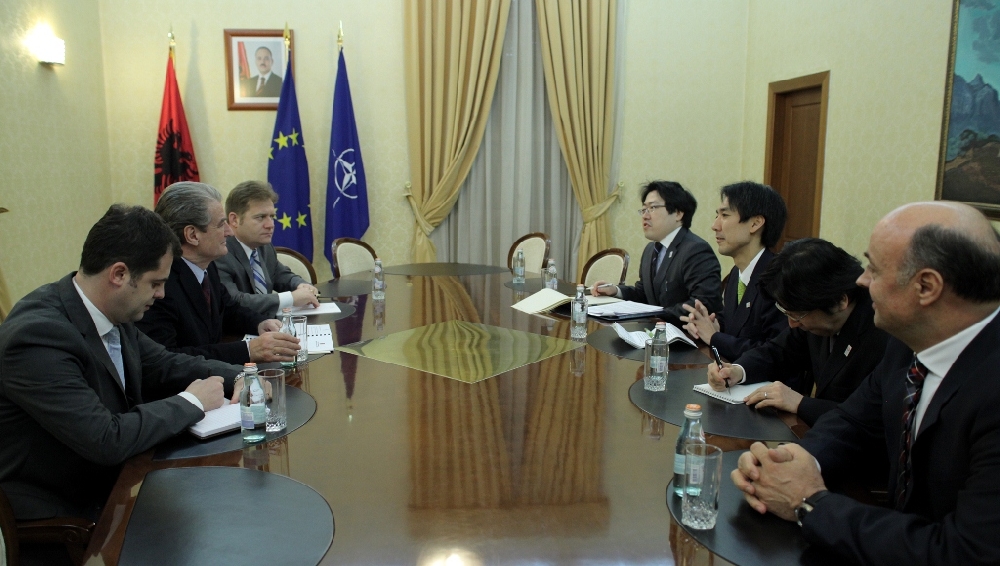 Tirana, April 2, 2013
Prime Minister Sali Berisha received today a Japanese delegation headed by the Parliamentary Vice-Minister for Foreign Affairs Minoru Kiuchi.
PM Berisha considered the visit a very important contribution to the further strengthening of relations between the two countries.
Speaking about developments in the Far East, the interlocutors emphasized that North Korean leaders' recent steps pose a serious threat to peace in the region and beyond.
The government of Albania shares the concern of the government of Japan and of all the international community on this threat on peace and security in the Far East region and its countries as a consequence of policies that the leadership of that country has pursued.
Mr. Kiuchi appreciated highly Albania extraordinary development during this period emphasizing that it's evident for all visitors or foreign officials coming to Albania.
Also the interlocutors reaffirmed the determination of the two countries to intensify and deepen further the bilateral relations even in the framework of the international organizations. In this aspect, tourism, mineral, infrastructure, hydropower stations and agriculture were considered potential sectors for promotion of bilateral cooperation in the future.
Mr. Kiuchi highlighted the notable increase of interest of the Japanese investors in Albania and PM Berisha ensured him that the government of Albania will strongly support every kind of project of the Japanese investors through creating all the necessary facilities.
In this context, it was appreciated extraordinarily positive the government of Albania recent steps taken about tax exemption on the capital for all the investors.
PM Berisha expressed to Vice Minister Kiuchi deep gratitude for Japanese support to Albania during all this period in implementation of several important projects. /ibna/