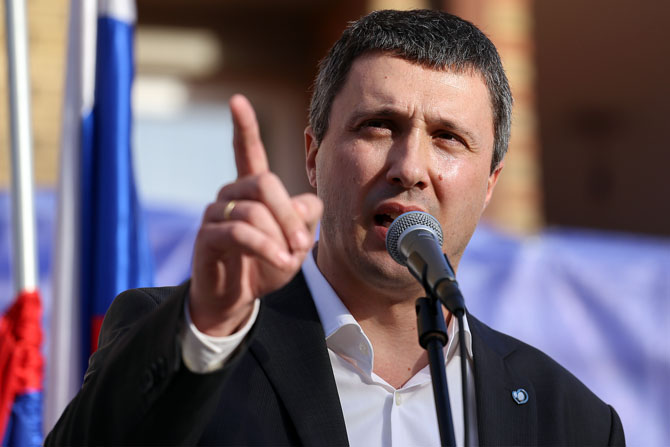 By Milos Mitrovic – Belgrade
Serbian clerical political movement "Dveri" has announced it would "politically" confront with organizing the Pride Parade in Belgrade. Bosko Obradovic, one of the "Dveri" leaders, said at the press conference in Cacak today that the movement would organize rally in Belgrade's Republic Square on Saturday.
Pride Parade is scheduled for Sunday.
Obradovic said that the rally would be "political protest against the organizing gay parade" and that the supporters of "Dveri" would not withdraw from the streets until the manifestation is canceled. He added that the LGBT manifestation would be "shame" for Serbia and the beginning of "the intensive offensive of the ideology of homosexualism through the whole society and all state institutions".
Earlier this year "Dveri" demanded  a "100-year ban"  ban of organizing Pride Parade in Serbia. The movement strives Serbia to join "Eurasian integration".
"Dveri has no any problem with homosexuals, because we are not interested in anyone's privacy. However, we are against imposing of the ideology which imposes something unnatural as natural and which represent something abnormal as normal", Bosko Obradovic said.
In March 2012 the movement collected 14,507 signatures to register as an electoral list for the May parliamentary election. "Dveri"  received 4.35% of the popular vote, failing to pass the 5% minimum threshold to enter parliament.
In this years elections in March they received 3.58% of the vote.