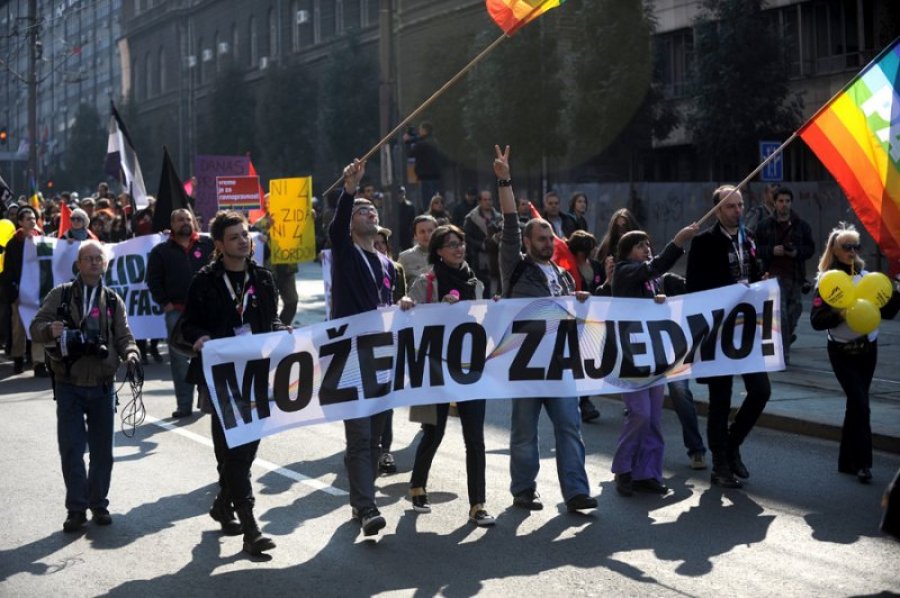 By Milos Mitrovic – Belgrade
Gay parade was held in Belgrade today; it was followed by incidents in the different parts of the city and some 50 people have been arrested. The members of Gendarmerie have beaten Andrej Vucic, brother of the Prime Minister Aleksandar Vucic.
Premier confirmed the incident saying that the gendarmes have "overstepped their authority". Vucic added, however, that his brother and two security stuff members who have been beaten alongside him would not sue the gendarmes.
The gendarmes "might have been nervous" Vucic said mentioning their previous engagement in the south of Serbia which was faced with the terrorist attacks of some ethnic Albanians.
Vucic also suggested that his brother was not happy "with today's events" in Belgrade possibly alluding to the Pride.
According to Tanjug news agency, Andrej Vucic and two members of his security, provided by the government, have been beaten after they have tried to pass the police cordon.
PM said that the security with his brother was his own.
The central parts of Belgrade have been blocked by heavy police security, with armored vehicles and water cannons. Helicopters flew above the streets. According to some accounts, even military forces have been deployed.
On Saturday evening, the clerical movement "Dveri" held a rally in the center opposing government's approval for the Pride Parade; another rally is expected later today.
Dozens of hooligans have been clashing with the police near the central square Slavija throwing rocks and some 30 have tried to attack B92 Television in New Belgrade. Highway Belgrade-Zagreb has been blocked at some point after anti-gay rioters set tires on fire.
Today's Pride Parade was first organized in 2010. In the previous years the government banned the manifestation due to security concerns. However, respecting sexual minorities rights became priority for Serbia which strives to join European Union.
EU delegation head Michael Davenport as well as three ministers and the officials of the main parties attended the pride. On the other side, "Dveri", extreme nationalistic groups and Serbian Orthodox Church fiercely opposed the manifestation.
During the gay march the bells in orthodox churches in Belgrade rung.
"The state has proved its existence", Prime Minister Vucic said at the media conference, adding that the government has allowed Pride Parade because of the freedom of assembly which is guaranteed by the Constitution.
He underlined that there were no criminal offenses during the parade.
Vucic admitted that for him, living standards, are a more important issue than gay marching. He announced new foreign investments specifying that 46 companies from Germany, Turkey, France, Italy and Finland will start to operate in Serbia as early as 2015.
Premier expects that these companies will create 21,000 new jobs.