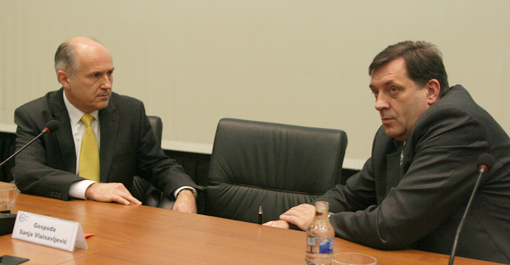 Banja Luka, September 17, 2015/ Independent Balkan News Agency
By Mladen Dragojlovic
Along with the problems caused by opposition parties which for the last several days have been exerting political pressure on RS president and leader of ruling Alliance of independent social democrats, Milorad Dodik, additional problem for him and his partners represents the report which international community High representative in BiH, Valentin Inzko, sent to UN Security council and Secretary General, Ban Ki Moon.
In the report, Inzko warns on recent actions by the authorities of RS toward organizing a referendum on the state judicial institutions and the authorities of the High Representative, and elaborates why these actions are a direct violation of the Dayton Peace Agreement.
"In my capacity as the final authority regarding the interpretation of the General Framework Agreement for Peace, I have determined RS to be in clear breach of the Agreement. No one is disputing the right of RS to organize referendum on matters falling within the entity's area of responsibility, but the BiH Court and Prosecutor's Office are institutions created to carry out the responsibilities of the BiH state, while the authorities of the High Representative are covered under international law. Both of these issues fall outside of the area of responsibility of the Republika Srpska authorities", Inzko stresses in his report.
He also says that, at a time when citizens living in the RS are facing difficulties related to issues which are the direct responsibility of the RS authorities, such as education, healthcare and job creation, the SNSD and its coalition partners in the RS have chosen to generate a crisis with the international community on matters which are outside of the entity's area of responsibility.
"Rather than focusing on addressing these concrete problems faced by citizens, the RS leadership has chosen to drive the entity into deeper crisis and isolation. This is not in the interest of the people living in the RS. What is now necessary to rectify the situation is for the referendum to be put aside without any further delay", Inzko concludes.
Just few hours after the report was published in media, Dodik answered in his style, disputing most of the points of this document. As it is announced by Dodik's cabinet, during a meeting with Serbian Ambassador in BiH, Dodik emphasised that the current reality is such that the referendum on the BiH judiciary system will not be abandoned. Dodik has stated the reasons the National Assembly was guided by when it voted in favour of the referendum, pointing out that he is willing to achieve through dialogue the four conditions that RS wants fulfilled.