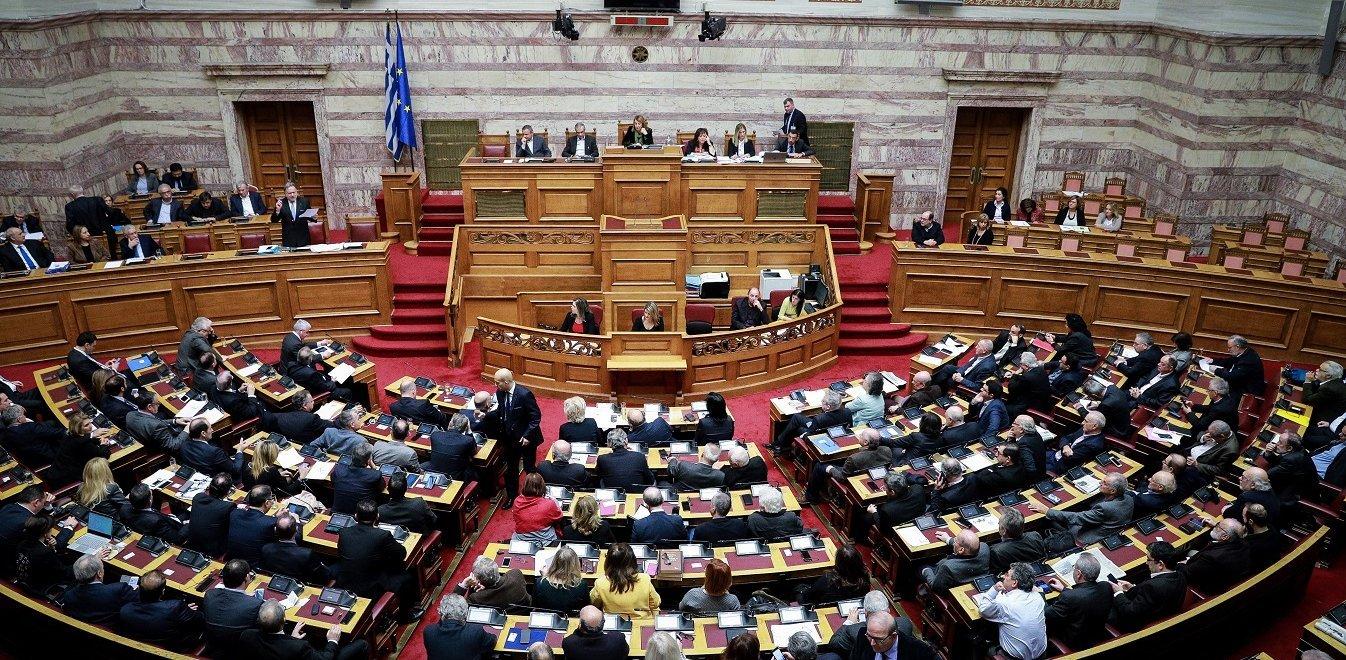 Since early Wednesday morning the debate on the Prespes Agreement from the plenary session of the Greek Parliament is underway, in the midst of intense political controversy. The MPs of New Democracy speak of "opacity" and "violation of the Agreement" on the part of fYROMacedonia. In particular, they attack the government on the grounds that the amendments voted in the Constitution of fYROMacadonia have not been incorporating in a single text.
"The constitutional formula they follow in the neighbouring country is not to incorporate the amendments, but to quote them at the end of the constitutional text", the Greek government replied through the deputy foreign minister. Indeed, Giorgos Katrougalos pointed out that the amendments to the Constitution are presented in the verbatim note that has been tabled in the House, whereas the official text of the Constitution of fYROMacedonia has been submitted to the competent committee since Tuesday, along with the full text that would incorporate the new amendments.
The government refers ND's reasoning on the "renegotiation" of the Agreement to Nimetz's statements
At the same time, the main opposition party calls for the agreement not to be ratified by this Parliament, considering that after the withdrawal of ANEL by the government, the parliamentary majority is meretricious and therefore elections must be held so that the new government under Mr Mitsotakis renegotiates the agreement . On its part, the government points to the statement by UN special mediator Matthew Nimetz, with the Maximos Mansion stressing that "it ends the Mr. Mitsotakis fairy tale about alleged renegotiation".
In an interview with the Athenian-Macedonian News Agency, Nimetz notes that if the Prespes Agreement does not enter into force, "the consequences of the failure would be profound and probably both sides could reconsider many elements that had been agreed". He points out that a new agreement would require "years, not months, since all issues – including changing the name of the state erga omnes – will be back on the table".
Awaiting Mitsotaki's decisions on the motion of mistrust
With the meeting scheduled to be concluded with the vote, in the first hours of Friday, there is still the possibility that Kyriakos Mitsotakis will choose to table a motion of mistrust. If this happens, the parliamentary process for the Prespes Agreement will be interrupted for at least two days, in order for the vote of mistrust to be discussed.
The leader of the ND said yesterday in Thessaloniki that he "will do everything to prevent the ratification of the Prespes Agreement", a statement that is interpreted as a preface to the motion of mistrust. But the fact that a week earlier Tsipras received a vote of confidence creates second thoughts to Mitsotakis' staff./IBNA