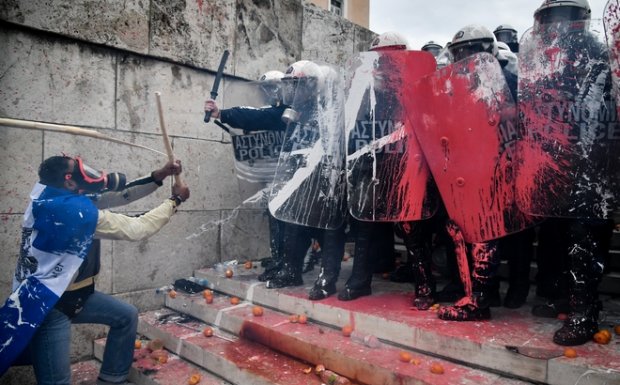 An upcoming vote in Greek parliament on Athens' deal with Skopje to change the name of the Former Yugoslav Republic of Macedonia (FYROM) to Northern Macedonia (known as the Prespes Agreement) could potentially reshape Greece's political map ahead of a general election later this year.
Following the breakup of the SYRIZA – Independent Greeks coalition, the controversial issue has now led to fracture in the Democratic Coalition, a union of socialist PASOK with the Democratic Left (DIMAR) and other, smaller center-left political entities.
After revealing his intention to vote in favor of the Prespes Agreement, DIMAR leader Thanasis Theocharopoulos was expelled from the Democratic Alliance's parliamentary group by leader Fofi Gennimata. A party announcement said the decision cannot be tolerated as it obviously assisted the plans of Prime Minister Alexis Tsipras.
Analysts point out that the PM would be hoping to win the support of "progressive" voters of the center-left and socialists in this year's general election, a consideration which was at the core of attempting to resolve the name dispute with neighboring FYROM.
Theocharopoulos's vote is seen as crucial to the government as Tsipras hopes to marginally clinch an overall majority when the Prespes accord is put to the Greek House for ratification. In addition to SYRIZA's 145 MPs, independent MPs Katerina Papacosta and Spyros Danellis, as well as Independent Greeks MP Thanasis Papachristopoulos, are expected to support the deal.
In order to clinch a majority of 151 MPs in the 300-member House, SYRIZA will need the vote of Theocharopoulos as well as those of a number of To Potami MPs who view the Prespes Agreement in a positive light. However, the centrist To Potami party is split over the issue and some MPs may choose to abstain instead of offering support to Tsipras. The party was also thrown into turmoil because of the FYROM name-change debate, with two of its MPs threatening to quit the party last week if it were seen to prop up the Tsipras administration.
Even though ratification is possible via a majority of those present in the House (i.e. less than 151 MPs), PM Tsipras wants to secure a majority of 151 as part of his efforts to show that he is in control of the political agenda and put pressure on the opposition.
Meanwhile, violent clashes broke out on Sunday in central Athens after police fired tear gas to disperse protesters outside parliament, as tens of thousands of Greeks rallied to protest against the Prespes Agreement./IBNA