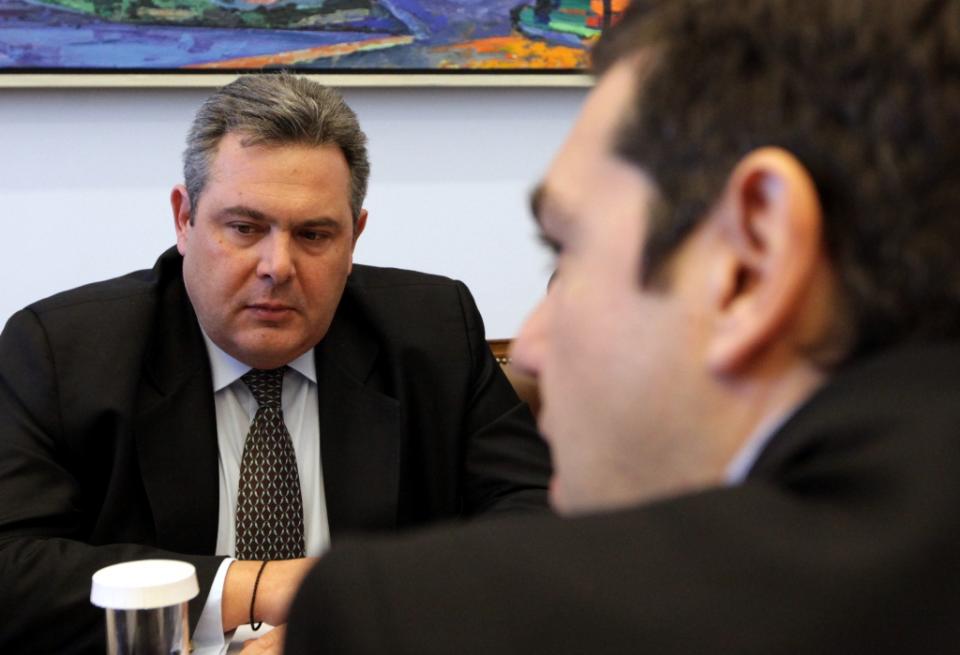 Prime Minister Alexis Tsipras' relations with the leader of junior coalition partner Independent Greeks (ANEL), Panos Kammenos, took a turn for the worse over the controversial FYROM name-change deal known as the Prespes Agreement.
In fresh statements over the weekend, Kammenos vowed to oppose the government's agreement with Skopje "to the end", adding that his party will not be blackmailed or accept a fait accompli on the issue.
In response to Kammenos comments, Tsipras said he "will not scare ahead of the cost or the risk", while adding that his administration will "defend what we believe is nationally beneficial".
Government spokesman Dimitris Tzanakopoulos also weighed in on the feud, pointing out that the Prespes Agreement has the support of the absolute majority in the House, based on the views MPs have expressed. He went on to express his conviction that parliament will not allow this "historic opportunity" to be missed.
Tension in Athens over the Prespes Agreement is expected to increase as the ratification of the accord in FYROM draws closer. With the process in Skopje set to be wrapped up this week, the deal will then have to come to Greek parliament for debate and ratification.
According to analysts, the Tsipras administration will need to secure the votes of independent and opposition deputies to get the deal over the 151-MP line. However, this will be tricky as several lawmakers that could vote either way are yet to make up their mind. Fears that the Prespes Agreement may not provide sufficient safeguards against irredentism in the neighboring country are seen as crucial.
The Independent Greeks leader called an emergency meeting of his parliamentary group for Wednesday to discuss the party's stance. Panos Kammenos has said he will quit the coalition in order to stop the name-deal in its tracks. However, analysts stress ANEL may continue to prop up a Tsipras "minority government". In any case, such a development would add to calls for a snap election, observers note.
Meanwhile, German Chancellor Angela Merkel will visit Athens on Thursday to back the deal and help Tsipras win the votes he needs in the House to see it ratified. Berlin said ahead of the Chancellor's visit that it "welcomes the agreement and continues to hope that this decades-long dispute will be resolved."/IBNA