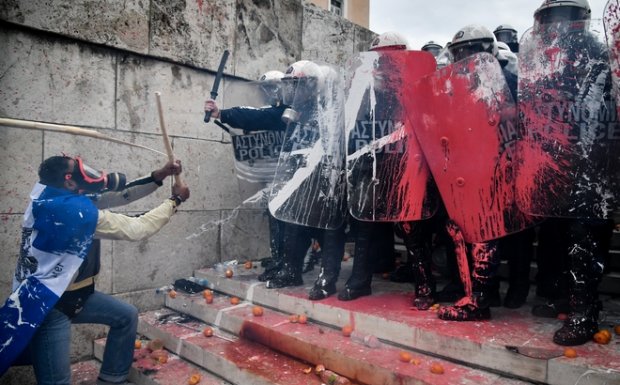 Predstojeće glasanje u grčkom parlamentu o sporazumu Atine sa Skopljem o promeni naziva Bivše Jugoslavenske Republike Makedonije (BJRM) u Severnu Makedoniju (poznat kao Prespanski sporazum) mogao bi potencijalno preoblikovati političku kartu Grčke uoči opštih izbora krajem ove godine.
Nakon raspada koalicije SYRIZA – Nezavisna Grčka, kontroverzno pitanje sada je dovelo do loma u Demokratskoj koaliciji, uniji socijalističkog PASOK-a sa Demokratskom levicom (DIMAR), te drugim manjim političkim strankama levog centra.
Nakon što je otkrio svoju nameru da glasa za Prespanski sporazum, lider DIMAR Thanasis Theocharopoulos je izbačen iz parlamentarne grupe Demokratskog saveza od strane lidera Fofija Gennimate. U saopštenju stranke navodi se da se njegova odluka ne može tolerisati jer je očito pomogla planovima premijera Alekisa Tsiprasa.
Analitičari ističu da se premijer nada da će dobiti podršku "progresivnih" birača centra levice i socijalista na ovogodišnjim opštim izborima, uzimajući u obzir da je to bila suština pokušaja da se reši spor oko imena sa susednom BJRM.
Theocharopoulosovo glasanje se smatra ključnim za vladu jer se Tsipras nada da će marginalno osvojiti sveukupnu većinu kada Prespanski sporazum dođe u parlament na ratifikaciju.
Pored 145 poslanika SYRIZE, očekuje se da će nezavisni poslanici Katerina Papacosta i Spiros Danellis, kao i nezavisni poslanik Nezavisne Grčke Thanasis Papachristopoulos, podržati sporazum.
Da bi se dobila većina od 151 poslanika u Domu od 300 članova, SYRIZA će trebati glas Theocharopoulosa, kao i glasove brojnih zastupnika To Potami koji smatraju da je Prespanski sporazum pozitivan. Međutim, stranka centra To Potami je podeljena oko tog pitanja i neki poslanici mogu izabrati da se uzdrže, umesto da pruže podršku Tsiprasu. Stranka je također pretrpela unutrašnje nesuglasice zbog rasprave o promeni imena BJRM, jer su dvojica njenih poslanika prošle sedmice pretili da će napustiti stranku ako vide da stranka daje podršku Tsiprasovoj administraciji.
Iako je ratifikacija moguća glasovima onih koji su prisutni u Domu (tj. manje od 151 poslanika), premijer Tsipras želi osigurati većinu od 151 kao deo svojih nastojanja da pokaže da kontroliše političku agendu i da izvrši pritisak na opoziciju.
U međuvremenu, u nedelju su u centru Atine izbili nasilni sukobi nakon što je policija ispalila suzavac kako bi rasterala demonstrante ispred parlamenta, gde su se desetine hiljada Grka okupili kako bi protestovali protiv Prespanskog sporazuma./IBNA