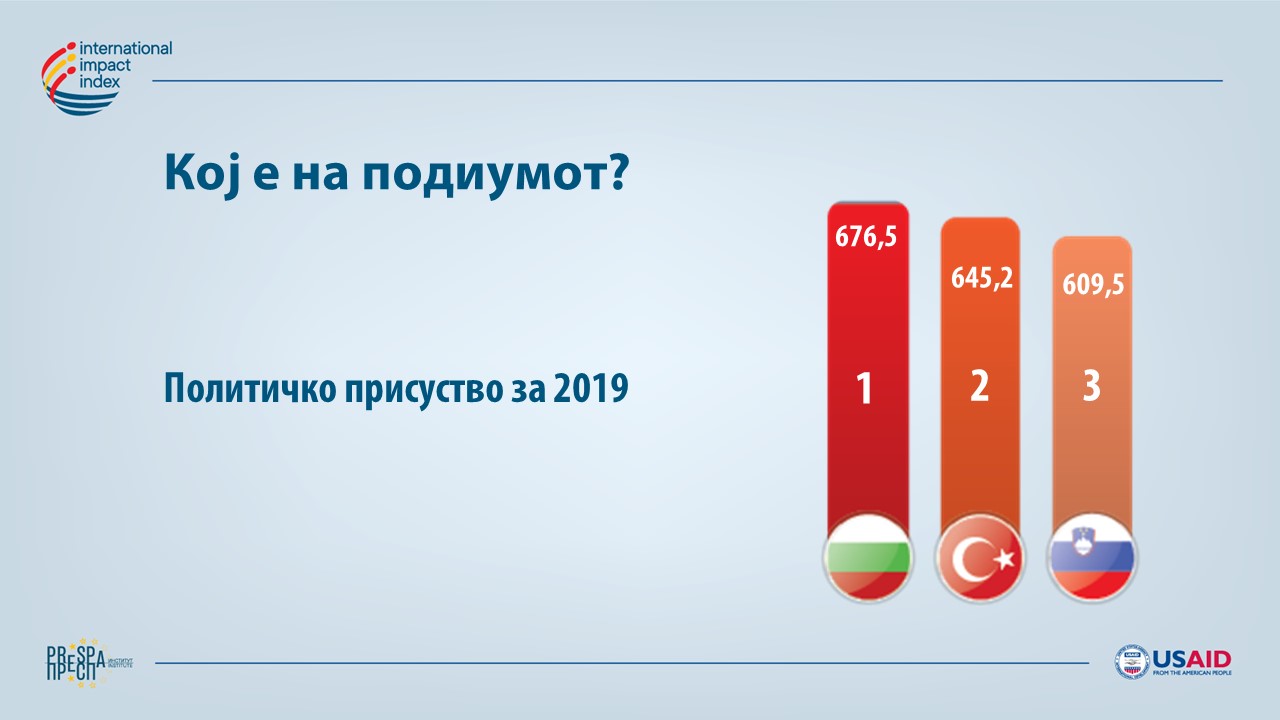 The Prespa Institute published a survey on the international presence in North Macedonia last year, compared to 2009 and 2010, which is the first of its kind and shows the impact of the country's foreign policy and position on geopolitics.
The research assesses the economic, political and other parameters in the mild presence of countries in North Macedonia, measured by the level of diplomatic relations, foreign missions, visits, military and bilateral cooperation, trade, investment, aid, culture, media, tourism, technology and other presences. The measurement covers 24 countries, from the United States, the EU and the neighborhood, to China. The research reveals that Turkey's presence in North Macedonia is stable, regardless of developments in that country, that the United States is returning at the top and that Bulgaria's presence is being seriously strengthened.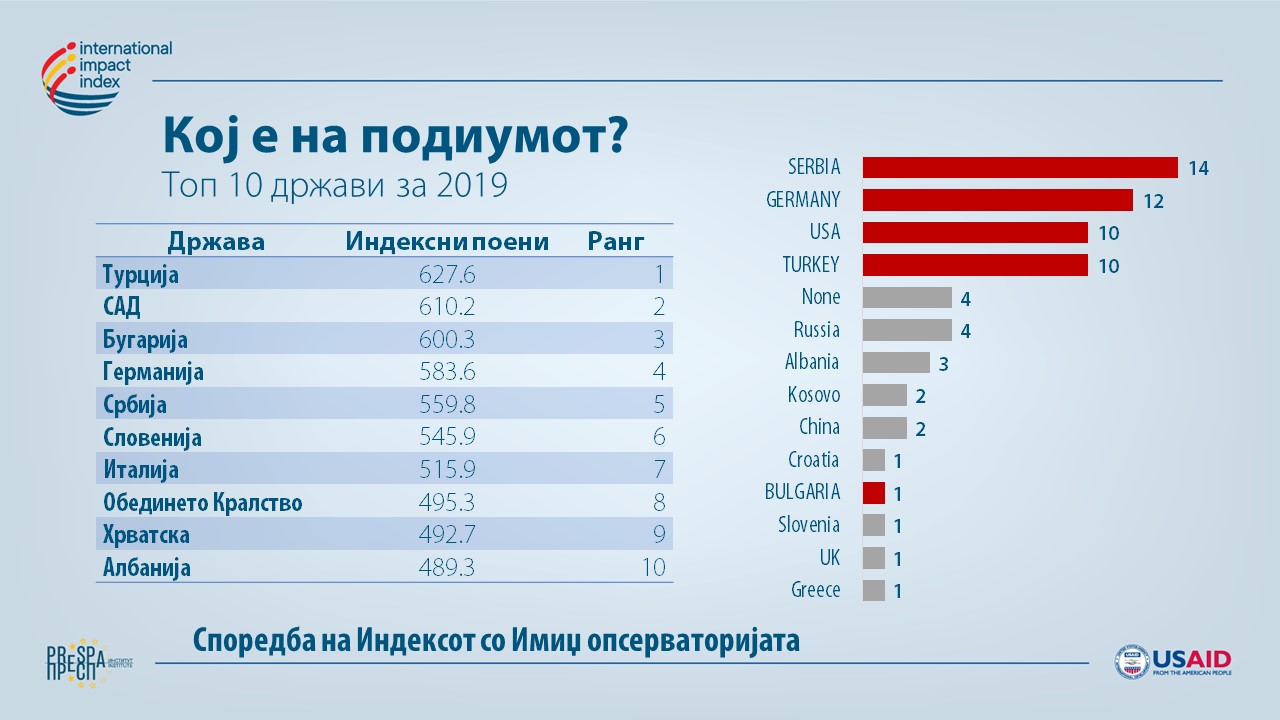 The list of the ten countries with the strongest presence shows that North Macedonia is a geopolitically attractive country. The dominance of the EU Member States is visible and the Union itself is considered the country's best friend by one fifth of its citizens. The presence of neighbours is also important, as three of the five neighboring countries are on the list of the ten countries with the strongest presence in North Macedonia, namely, Serbia, Bulgaria and Albania.
In general, Western countries have a dominant presence in the country and out of ten countries only three are not members of the EU: Turkey, Serbia and Albania, one is not a member of NATO, four are not in the 50 most democratic countries and one of them, the Turkey is on the verge of totalitarianism. On the other hand, two of the most politically present countries are also members of the Security Council, the United States and the United Kingdom.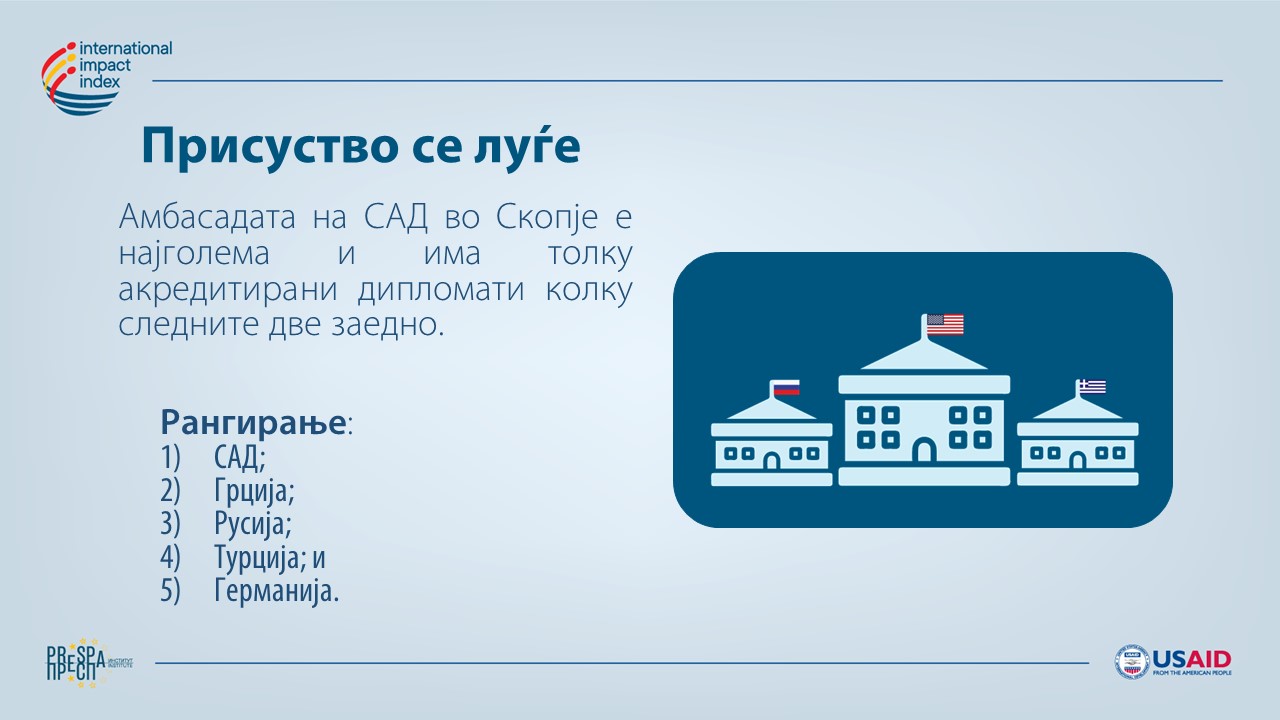 The presence of Russia and China, according to the survey, is well below the level of other global international actors, with the second country still 15th in the presence index.
Economic research shows that Germany has the largest presence, followed by the United States and Turkey. The United Kingdom and Italy are also in the top five. But if you look at the data with the ten countries with the strongest presence, it can be seen that the economic ties are stronger with the neighbours, as three of them, Bulgaria, Serbia and Greece are in the list. Also, the developed western democracies are important economic partners and investors in North Macedonia, and apart from them, Turkey is the most serious economic partner.
Last year, Bulgaria had the largest presence in politics, followed by Turkey and Slovenia. The top five is completed by the United States and Germany, while both Russia and the United Kingdom made the top ten for the first time. The assessment is that Bulgaria's presence is so high due to the Cooperation and Friendship Agreement and the EU Presidency./ibna