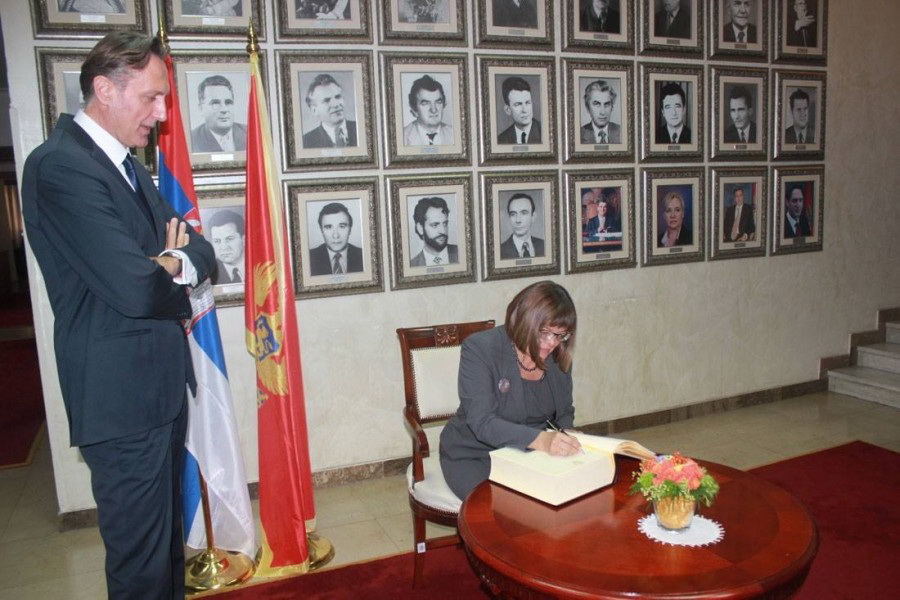 By Adnan Prekic – Podgorica
Presidents of the Montenegrin and Serbian Parliament, Ranko Krivokapic and Natasa Gojkovic, agreed that nationalism, which is present in Europe for a long time is evil. According to them, the only way to fight of such threats is through development of democracy and the rule of law. Gojkovic assessed that cooperation between Serbia and Montenegro is at its highest level and that the relations between these neighbor countries are good.
President of the Montenegrin Parliament hosted a colleague from Serbia Natasu Gojkovic. After the meeting Krivokapic said that there is scope to improve cooperation and that is sending a clear message to the region that most difficult issues can be resolved. President of the Serbian Parliament said that Montenegro is in the process of integration ahead of Serbia and that the Serbian Parliament has much to learn.
Commenting on the incident at a football game between the Serbia and Albania, the two presidents agreed that the nationalism is still a major regional issue.
"Nationalism is an evil that has been pervading Europe for many years, and the first two world wars had that motivation. In the Balkans nationalism has been present in all forms, especially through the war in the nineties on the territory of former Yugoslavia", said Krivokapic. According to the Krivokapic words, development of democracy, civil society, freedom as a whole, rule of law, a different economic policy, are the only things for the fight against it.
Gojkovic said that the provocation in that football game was out of the ordinary provocation for a sporting event, because it is obvious that it was a political provocation. "What are the objectives for this provocation, it will be shown in the future, presumably to destabilise this region and stop the process of regional cooperation, which started ever since the new governments were formed, especially the Government of Serbia", she said.
Serbian Parliament Speaker Natasa Gojkovic also spoke with the President of Montenegro Filip Vujanovic and Montenegrin Prime minister Milo Djukanovic.