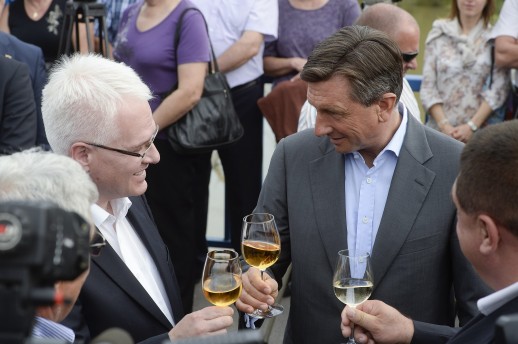 By Marija Avramovic – Zagreb
Croatian President Ivo Josipovic and his Slovenian counterpart Borut Pahor on Sunday attended the celebration of cooperation between border regions Zagorje Villages and Podcetrtek and the 10th anniversary of the opening of the first joint tourism zone "Sutla – valley springs of health", adding that the friendship, cooperation and ability to achieve a compromise between the two sides is the path of progress and development.
"Only strong politicians, strong policies and strong states are willing to reach an agreement and compromise. Our history has proved this", Josipovic said, recalling that despite any "spats" in relations between the two countries, Slovenia and Croatia are tied together by a "lasting and sincere friendship" that is "a major factor in our relations".
According to the head of the Croatian state, the obstacles that are put in front of the two countries' friendship and cooperation harm everyone and hinder ambition, growth and investment.
"But we're going to overcome these obstacles, we will be open society in Croatia and in Slovenia", Josipovic added.
In his welcome speech, in which he emphasised the friendship between the two peoples and countries, Josipovic reminded that "the biggest support for Croatia came from border areas, from people who socialize, who live together side by side and who know the value of friendship".
Slovenian President also stressed the importance of "sincere and lasting friendship" between the two countries and said that in the moments of cooling ties between people those very people at the border were responsible for order and stated that they will have to work to the benefit of the people of both countries.
"The vast majority of problems that we inherited from the former state is resolved. Not all, but the main issues between Slovenia and Croatian have been resolved", Pahor said.
Joint tourist zone "Sutla – valley springs of health" was opened in 2004, and is full of many historical sights such as the castle Miljan and churches, while the natural environment has proven to be suitable for the opening of hiking and biking trails.