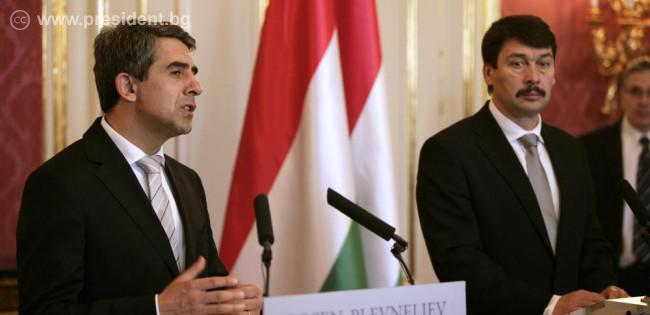 By Clive Leviev-Sawyer – The Sofia Globe
Bulgaria, overwhelmingly dependent on Russia for energy supplies, has been invited by Hungary for talks on expanding a project to connect the power supply networks of Hungary, Slovakia, the Czech Republic and Poland to include Bulgaria and later possibly Romania too.
This emerged after a meeting in Budapest on April 2 2013 between Bulgarian President Rossen Plevneliev and his Hungarian counterpart Janos Ader.
At a joint news conference, Plevneliev and Ader said that diversifying energy supplies and transit routes of energy resources was a priority for both Bulgaria and Hungary.
The implementation of the project for connecting the power supply networks of Hungary, the Czech Republic and Slovakia should later be extended to include the energy systems of Bulgaria and Romania, Plevneliev said.
"We need to co-operate in the area of power engineering and gas supplies," he said. This would enable Bulgaria to resolve a number of current issues, according to Plevneliev.
"Unlike Bulgaria, Hungary has an access not only to Russian but also to Norwegian gas, which is much cheaper. If Bulgaria had such a connection it would have saved the national economy about $10 billion for gas supplies," Plevneliev said.
The idea to form an energy alliance dates back to September 2012 and has been endorsed by Hungary, the Czech Republic, Slovakia and Poland.
Plevneliev said that Bulgaria should speed up the process of adopting the rules of the Third EU Liberalization Energy Package, which will provide more effective consumer protection and will make Bulgaria less dependent on external factors. "Bulgaria is now preparing legislative amendments and I do hope that the amendments will be promptly approved by the next Parliament so that public expectations be met," Plevneliev said.
Hungarian companies have invested more than a billion euro in Bulgaria in the past 10 years, and, according to Ader, there are favorable conditions that make it possible to maintain and reinforce this positive trend. Despite the negative impact of the world financial and economic crisis, bilateral trade had achieved considerable growth and with a little effort, it could be pushed above the billion euro a year mark, Ader said.