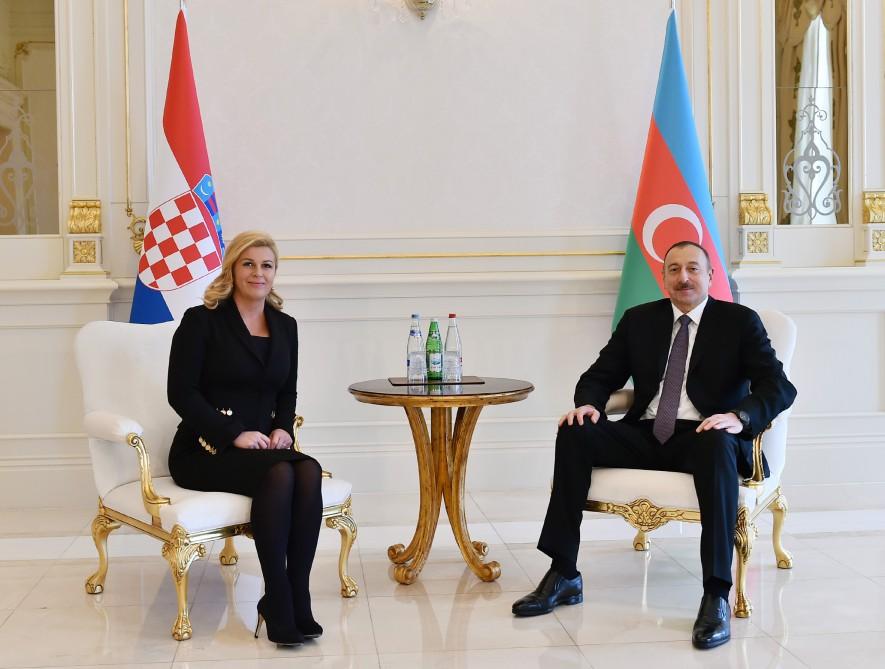 Croatia and Azerbaijan are friendly countries and strategic partners that have developed good relations free of outstanding issues, and there is much room for enhancing bilateral cooperation in many areas, Azerbaijani President Ilham Aliyev and his Croatian counterpart, Kolinda Grabar Kitarovic, said in Baku after their talks on Monday.
"We are strategic partners and friends. We see Croatia as a friendly country," Aliyev said at a news conference after the meeting.
He recalled that he had visited Zagreb three years ago and that on that occasion a bilateral agreement on strategic partnership and friendship had been signed, laying the legal foundation for developing bilateral cooperation.
There is a high degree of mutual understanding between the two countries on how to improve cooperation, Aliyev said, adding that he thanked Croatia's president for supporting the relations between the European Union and Azerbaijan.
Aliyev went on to say that his country was working on a new model of relations with the EU and that declarations on partnership and cooperation had been signed with nine EU members.
Grabar-Kitarovic said that Croatia and Azerbaijan had developed good political relations free of outstanding issues and that there was still much room for upgrading their relations.
"You will have a friend in Croatia that will support you in your relations with the EU," she said.
The Azerbaijani president said that his country and Croatia could improve cooperation in trade, shipbuilding, transport, agriculture, tourism and in an important project of the Southern Gas Corridor which Aliyev depicted as "a global project of energy security".
Azarbaijan has signed with Croatia and some other countries in Croatia's neighbourhood a memorandum of understanding on that project and the implementation of the project is going as planned, Aliyev said.
The Croatian president agreed with the assessment of the importance of that project, and said she was looking forward to its completion.
The Southern Gas Corridor, estimated at over 45 billion dollars, is currently one of the largest infrastructure projects in the world, and its route goes from the Caspian gas field of Shah Deniz II via Azarbaijan, Georgia, Turkey, Greece and Albania to Italy.
A section of the gas corridor called the Trans-Adriatic Pipeline (TAP) runs from Greece via Albania to Italy, and Croatia could join it through an Adriatic-Ionian Gas Pipeline (IAP). The two corridors – IAP and TAP – are to be interconnected in Albania.
In late August this year, Croatia, Albania, Bosnia and Herzegovina, and Montenegro as well as the executives of Azerbaijan's SOCAR oil and gas company signed a Memorandum of Understanding for the construction of the future Ionian-Adriatic gas pipeline (IAP) and the document-signing ceremony was held as part of the Dubrovnik Forum.
In 2007, Croatia, Montenegro and Albania signed a declaration on the IAP. The length of the IAP gas pipeline from Split, Croatia to Fier, Albania is 516 kilometres, and the capacity of this pipeline is set at five billion cubic metres annually. Croatia's investment in its IAP section is estimated at EUR 265 million.
The Southern Gas Corridor will stretch over 3,700 kilometres.
Apart from the economic topics, the two presidents also discussed regional and security issues.
Aliyev said that he had informed the visiting Croatian president of the state of negotiations between Azerbaijan and Armenia on Nagorno Karabakh.
Unfortunately, our territory has been under occupation, 25% of our territory is occupied. Our people is exposed to ethnic cleansing, the Azerbaijani president said accusing Armenia of keeping the status quo in Nagorno Karabah despite many resolutions of international organisations.
The UN has adopted four resolutions urging the immediate and unconditional withdrawal of Armenian forces from Azerbaijan, but they are only a dead letter, Aliyev said.
Grabar-Kitarovic said that Croatia supported Azerbaijan's territorial integrity and advocated a peaceful and political solution to that issue./IBNA
Source: aboutcroatia.net