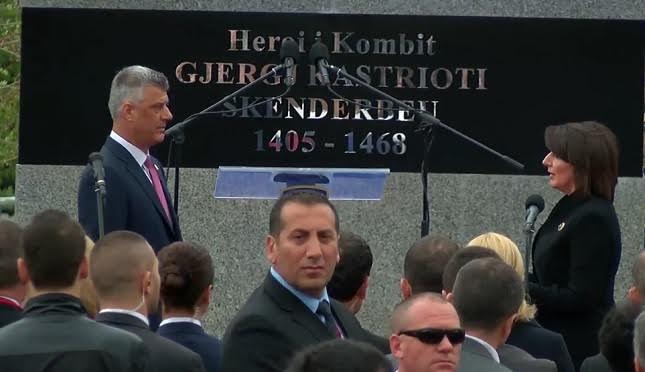 Pristina, 8 April 2016/Independent Balkan News Agency
By Elton Tota
Altough Kosovo is a parliamentary republic, today's inauguration of president Hashim Thaci in "Skanderbeg" square in Pristina resembled to a presidential republic.
In the Barack Obama style or French president Hollande style, the new president of Kosovo
In this ceremony, in the presence of the Guard of Honor of the Kosovo Security Forces, president Atifete Jahjaga gave to the new president of Kosovo the Constitution of Kosovo.
In his address, the new president of Kosovo, Hashim Thaci said that this is a new moment in his political career and for this he feels proud and excited.
Thaci invited everyone not to forget those who gave their life for the freedom of Kosovo. In his speech, Thaci said that "today we are showing to the world that we have strengthened our democracy".
Thaci said that Kosovo will not stop, because there's no time to lose. He said that Kosovo is the fatherland of all of its citizens.
"I am a simple president of a country of heroes", he added.
Experts of political developments in Kosovo say that in parliamentary republics, they have not encountered so far such ceremonies of inauguration of presidents.
Analyst Vilhard Shala told IBNA that in parliamentary systems, parliament is the highest institution and that the inauguration must be done there.
"What is happening today is a practice in presidential and half presidential systems, as it is the case in the USA or France, where presidents are elected directly from the people and they take their oath in open squares", Shala said.
Meanwhile, analyst Shkelzen Dakaj told IBNA that the president's inauguration before 50 foreign delegations and the citizens of Kosovo aims at improving the image of the country.
"Over 100 foreign journalists and over one thousands guests were invited in this ceremony. The objective is to report for a positive event in our country, following the violent events of teargas in the parliament of Kosovo. However, the effect will not be reached, because opposition let off teargas today in the city's square", Dakaj said. /ibna/