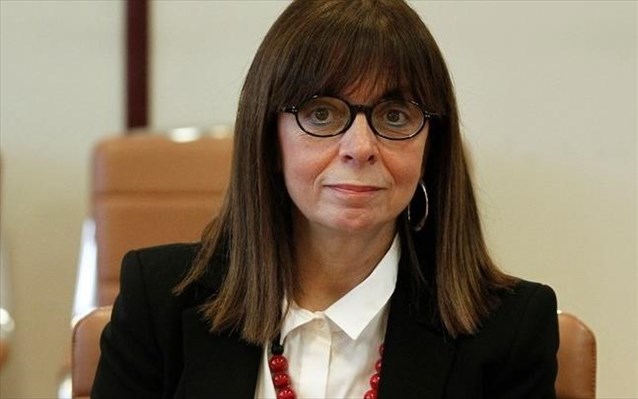 Following Prime Minister Kyriacos Mitsotakis's decision to nominate Ekaterini Sakellaropoulou for the presidency of the Hellenic Republic, left-leaning political parties will be faced with a difficult choice between endorsing the proposal and turning down an opportunity to elect Greece's first female president with a wide majority in the House.
Sakellaropoulou, 64, was chosen by the previous SYRIZA-led government to chair the Council of State, Greece's top administrative court. On Thursday the main opposition party's parliamentary group will meet to discuss the PM's nomination.
Analysts point out that Mitsotakis has put both SYRIZA and the center-left Movement for Change (KINAL) in a difficult spot, as Sakellaropoulou meets most of the prerequisites for the role cited by the two parties, while her political beliefs are not thought to be conservative, as the PM himself pointed out in his address to the nation on Wednesday.
SYRIZA sources pointed out in recent days that the party's strategy is not to flatly reject any candidate put forth by the ruling party.
In a scathing attack on New Democracy, the same sources said the PM had tarnished the reputation of the presidency in the way he approached the nomination, while the timing of his announcement was obviously meant to drive attention away from crucial policy failures, such as the exclusion of Greece from a summit in Berlin that will discuss a process to promote peace in Libya and the government's disastrous handling of the refugee crisis.

According to latest analyses, despite the high esteem Sakellaropoulou is held in with the main opposition party, leader Alexis Tsipras may choose to name a different nominee; possibly one that would better symbolize the party's shift to the center left.

At the Movement for Change, meanwhile, leader Fofi Gennimata had demanded that the new president isn't right-leaning. She had also said that her party would prefer a candidate that was "present" during the protracted economic crisis. Initial information suggests that Sakellaropoulou's nomination has been well received by KINAL officials.
KINAL's parliamentary group will meet on Thursday to decide the party's stance.
Government sources reveal that the Prime Minister would consider it a success if Sakellaropoulou could secure a majority above 200 in the 300-member House. In any case, even if opposition parties decide not to back the government's proposal, Sakellaropoulou could be elected by a simple majority.
Incumbent Prokopis Pavlopoulos's term expires in March, therefore, according to constitutional provisions, the process to elect a new president must commence by 13 February at the latest./ibna