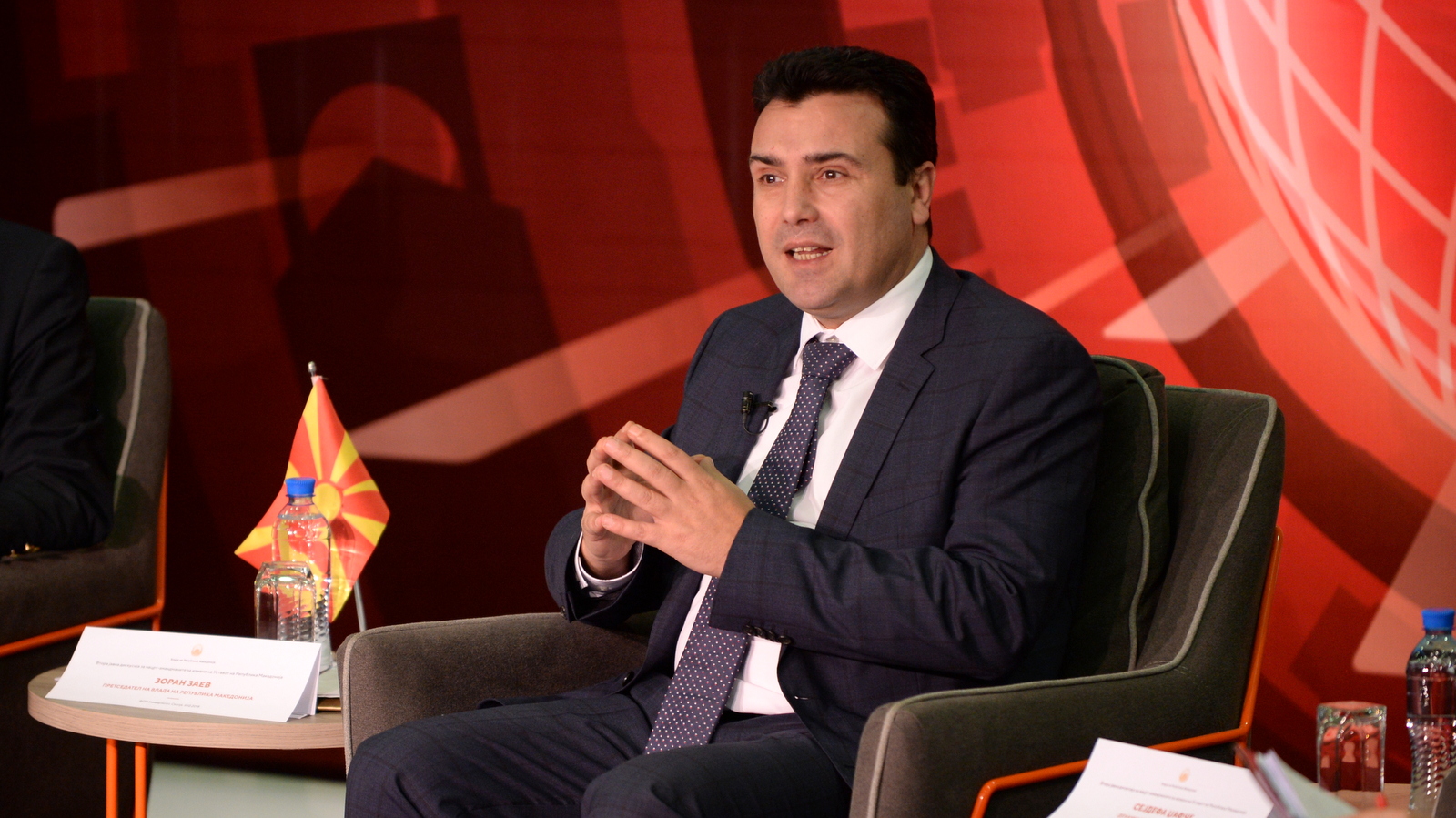 This week we will have serious discussions both within our party and within the ruling coalition on whether we will go to early general elections, that is, who will be our candidate for the presidency, said yesterday Deputy PM and Vice President of SDSM, Radmila Sekerinska. She says that as a person who has posts both on Bihac Street and Ilinden Street, she wants to first communicate her views to her colleagues, and then to the media, answering the question of whether she is in favour of early general elections and whether she is interested in succeeding President Gjorge Ivanov.
"Our entire focus now is on what we announced at the beginning of our mandate, to deliver what we announced in the next few weeks, and with that I believe that we will earn the support in any elections in the right way. Instead of talking about what's next, let's deliver what we promised yesterday, and the day before yesterday, and during this previous year," Sekerinska added.
The "Skopje Wing" is in favour of early elections
Prime Minister Zoran Zaev, after returning from his winter vacation, has taken matters into his own hands and started coordinating activities for the upcoming period. Party sources say that there is intra-party mood to grant the opposition's demand and schedule early general elections, but that the biggest problem was the threats from the international partners that, if this happens, the country's chance to focus on necessary reforms fails and obtain a positive assessment in June to start accession negotiations with the European Union. The disagreements with DUI, which, at least on paper, firmly defended the positions of Brussels and Washington, could be resolved and a common language could be found.
As supporters of the idea to test the confidence of citizens towards the government and SDSM, the names of Deputy Prime Minister Sekerinska and ministers Renata Trenevska-Deskovska and Damjan Mancevski were also mentioned. Justice Minister Deskoska has already publicly declared that she supports the idea of snap elections and her stance has been shared with her party colleagues. Zaev allegedly has nothing against the "Skopje wing", but he first wanted to "negotiate" with the EU and NATO partners.
The Social Democrats' calculations are that next spring, after receiving the NATO invitation that should come after the finalization of the name agreement, as well as the provided support from the Albanian voters due to the Law on Languages, it would not be a bad idea to organize snap elections with hopes that the elections will strengthen their position in parliament, and then in the government. The party also thinks that it would not be bad to wait until next year's regular elections if the country recorded any progress in economy, but fear it is a double-edged sword, because dissatisfaction with the citizens is constantly growing, and on the other hand, any prolonging the elections gives opposition time for further consolidation.
When it comes to the presidential election, Prime Minister Zaev is tactful and tries to rationalize the situation, because four prominent associates are "eyeing" the presidential office. That's why he is careful so there is no bad blood between them.
"Before going to his ski trip, he gave out orders for conducting a survey and examine the ratings of the four candidates who showed aspirations to be our presidential favorites. These candidates are Stevo Pendarovski, Oliver Spasovski, Radmila Sekerinska and Nikola Dimitrov. Proposals are still underway, but time is ticking away, we are waiting for the ratification process of the name agreement to be finalized in the Greek parliament, so we should know by next week whixh one of our candidates will run in in the presidential elections in late April," claims SDSM official.
Pluses, disadvantages and ratings
According to him, the presidential candidate should be carefully selected, since any wrong or hasty step could mean failure to reach the required turnout of 40 per cent in the second round scheduled for May 5. Therefore, it is still a matter of not angering the membership and the public close to the government. In that context, it is mentioned that the Minister of Internal Affairs, Oliver Spasovski, for instance, would be a constant target of criticism over former Prime Minister Nikola Gruevski's escape, for which no one has been held accountable to this day. Deputy Prime Minister Radmila Sekerinska, according to the polls that were conducted before New Year's, has a low rating of 2.4 percent (as is Spasovski's rating). There were remarks about Minister of Foreign Affairs Nikola Dimitrov that he is not a member of SDSM and comes from a family with a VMRO-DPMNE provenience. On the other hand, Spasovski is considered a man of confidence, who himself says he will put maximum efforts in any office PM Zaev assigns to him. He, like Sekerinska, is pure party staff, and his social democratic past is flawless.Concerning Dimitrov, however, it is difficult to forget that he is one of the signatories of the Prespa Agreement, which receives support from the majority of SDSM members. As for Macedonia's National NATO coordinator, Stevo Pendarovski, who is well-known for managing to win almost 400,000 votes in the presidential election in 2009, when the party was barely keeping afloat, but there are also remarks that in all the past few years he was not very active in the party organs.
It is amusing that coalition partner DUI, in their efforts to choose a consensual candidate for president, insisted that the candidate should have any kind of Albanian roots in his family tree. According to Ali Ahmeti's party, Professor Denko Maleski would be the ideal president, because, according to their information, his mother was originally from Korca.
"Anyway, DUI is not the one that will dictate our choice," our interlocutor concluded.
Professor Maleski did not want to comment yesterday on the origin of his parents, because in such multiethnic society, it would be ungrateful to count blood cells, and this should not be the only indicator of someone's ability to become head of state. He mentions that he discusses his own, that is, the origin of his parents in his book entitled "Tar Baby", so those who have read it can make up their own minds about Maleski's family tree.
VMRO-DPMNE yesterday, while criticizing the move of Parliament Speaker Talat Xhaferi to publish the Law on languages ​​without the signature of President Gjorge Ivanov, reiterated that it is time for the current government to leave, and that's why it would be best if early general elections were scheduled along with the presidential elections.ΙΒΝΑ
Goran Adamovski