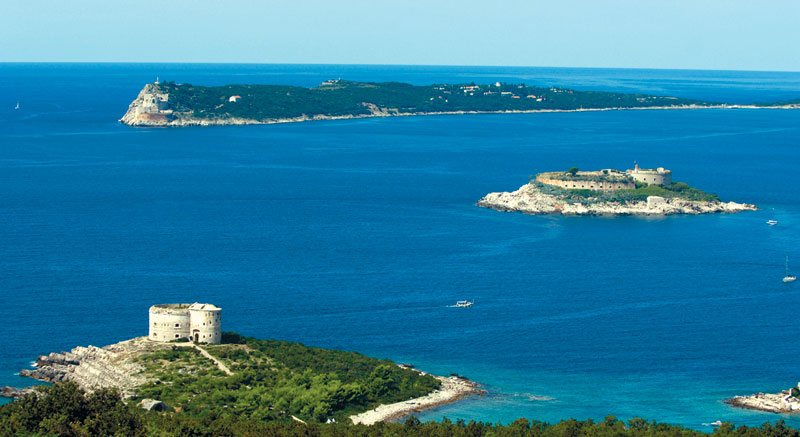 Podgorica, January 13, 2015/ Independent Balkan News Agency
By Adnan Prekic
Presidential election in Croatia have once again actualized border dispute between Montenegro and Croatia regarding Prevlaka penicula. During the campaign, the new Croatian president Grabar-Kitarovic once again raised the question of the unresolved border dispute with Montenegro over Prevlaka peninsula, for which Montenegro and Croatia have yet to reach an agreement. The two countries, have not found a common solution and they are planing to solve the issue of demarcation by means of the international arbitration.
During the presidential campaign, the new Croatian president Kolinda Grabar-Kitarovic visited the Prevlaka peninsula. She said that after ten years of temporary demarcation still nobody is speaking of a permanent solution. This problem should be resolved through good-neighborly relations, international laws and national interests. But if an agreement is not reach in this way, then we should have to consult with the International institutions, said Kitarovic.
Minister without portfolio in the Government of Montenegro and president of Croatia citizen initiatives Marija Vučinović, announced that they do not expect a significant change of policy from the Croatian coating after the election Grabar-Kitarovic. "I am sure that the border issue between Montenegro and Croatia will be resolve by bilateral discussions and agreements. If this does not happen there is international arbitration", says Vučinović.
The former Minister for Foreign Affairs of Montenegro Branko Lukovac, said no one should expect significant changes in relation to Croatia's position on Prevlaka. We can expect a commitment to demarcation through a bilateral agreement or transfer of delimitation of the jurisdiction of the Tribunal", said Lukovac.
Croats living in Montenegro, in elections that were held, have given their support to the new president. Kolinda Grabar Kitarovic won 56.03 percent of the vote in Montenegro, while for the former president voted 43.97 percent.
Potential oil and gas deposits in the Adriatic offshore actualized the boundary problem between Montenegro and Croatia on the Prevlaka peninsula. Croatia has issued a tender for oil and gas exploration in Prevlaka even though they had to obtain approval from Montenegro first. The Interim Agreement between the two countries on the border states that any activity on Prevlaka must be carried out in agreement between the two countries.
The border dispute between Montenegro and Croatia dates since 1992. During the breakup of former Yugoslavia, the former JNA military and montenegrin police had occupied this part of Croatia and came close to Dubrovnik. Later there was a withdrawal and Prevlaka was placed under the control of the United Nations. The Interim Agreement was signed in 2002 and a disputed detail was the demarcation of borders on the sea. Due to the specific geographical location of Prevlaka, free maritime entrance to the Bay of Kotor in Montenegro is closed.