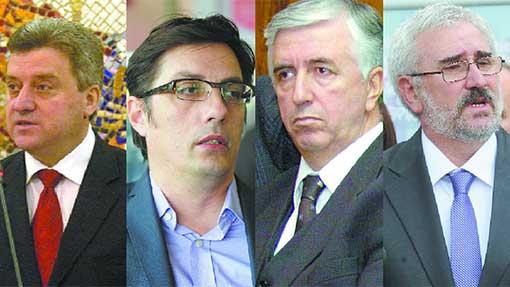 Skopje, March 4, 2014/Independent Balkan News Agency
By Naser Pajaziti
Four are the candidates who will participate in the presidential elections, a part of whom are known in the political arena and public life.
George Ivanov is the candidate of the party in power, VMRO-DPMNE and he's running for a second term in office, while the largest Macedonian opposition party, LSDM (Social Democratic Macedonian League) has chosen Stevo Pendarovski. Part of this race is also the only Albanian candidate, Iljaz Halimi from PDSH (Albanian Democratic Party) and Zoran Popovski-nominated by a small Macedonian party, GROM, a newly founded formation separated from LSDM.
IBNA is bringing detailed information on each of the four presidential candidates:
George Ivanov (VMRO-DPMNE)-born on May 2, 1960 in Valandova in the eastern part of the country. He was a political activist in student forums following the dissolution of former Yugoslavia. He has also worked as a journalist on public television and after this, he worked as a professor at the university of Skopje, as he had completed his law studies. Ivanov was founder of Institute for Democracy, Solidarity and Civil Society in Skopje. In 2009, he was nominated for president by VMRO-DPMNE and won the elections with a majority of votes, but also by securing a part of the votes of the Albanian voters.
Stevo Pendarovski (LSDM)-born on April 3, 1963 in Skopje. He's a lawyer and then he did his PHD in the domain of foreign security and EU policies. Following a short period as a lawyer, he's transferred to the Ministry of Interior as an expert of analysis. In 2001, during the period of the conflict, he becomes spokesman of the Ministry of Interior. From this post, he's then appointed adviser on issues of security in the cabinet of the president of that time, Boris Trajkovski, while he held the same position during the term in office of president Branko Cervenkovski. From 2004 until 2005 he was chairman of the State Election Commission. Today he's a professor of international relations in the American College in Skopje. He's also a chairman of the council of experts of LSDM on issues of security and NATO integration.
Iljaz Halimi (PDSH)-Born in 1955 in Tetovo. He's a distinguished professor of sociology in the high school of Tetovo, where he has worked for a long time. With the political changes and democratic transition in the country, Halimi founded Democratic People's Party (PDP), an Albanian political subject which mainly consisted on intellectuals. This subject then joins to PDSH of Arber Xhaferri, thus acting as a single subject.  For a period of time, Halimi has also acted as vice chairman of PDSH. He has also held different posts such as vice speaker of parliament, vice minister of defense and other state posts. For a period of time, he has also served as adviser on issues of education and science.
Zoran Popovski (GROM)-Born on September 8, 1962 in Skopje. He's a researcher of natural sciences and distinguished expert of molecular biology. Popovski currently works as a university professor and expert in the Institute of genetic biotechnology. He's a known expert in his domain and in the international arena. From 2002 until 2006, he has held the post of the state secretary at the Ministry of Education and Sciences, in the quality of member of LSDM. /ibna/